LOUISVILLE, Ky. (WDRB) — Some Kentucky lawmakers believe legalizing medical marijuana could generate millions of dollars and ease suffering for patients. And that's why there's an effort to help the legislation grow roots in urban areas.
Last week, the Kentucky House passed House Bill 136, which would legalize marijuana for certain medical conditions. If that does happen, a national nonprofit wants to make sure minorities get a piece of the plant.
One of those who hopes to benefit is Mario Urrutia, a former University of Louisville football player who, after retiring, has dealt with painful injuries.
"After my playing career, I was sidelined by a sesamoid bone removed from my foot," Urrutia said. "And from there, I was constantly taking pain medicine just to kind of alleviate some of those elements."
He said cannabis has been a game-changer.
"After taking CBD ointment and tinctures under my tongue, it basically did just as much if not better than the opioids that I was prescribed," said Urrutia, who is also president and CEO of a company that focuses on hemp and related sustainable product production.
"We partner with a group of farmers here in Kentucky to make sure the product is according to a standard that is demanded by the outcomes. So, in layman's terms, it's a regulation of the market and the supply chain."
Urrutia had a successful professional football career and owns several companies but he said he's really diving into this latest venture.
"Well, mine just stems from the beauty of the cannabis plant as a whole," he said. "I started in the industry working with the hemp plant and I still currently work with the hemp plant and production of it. But the benefits that the plant does give are far beyond most of the chemically-made products that are produced by the pharma companies. So me being a former pro football player and facing a lot of injuries during the most dangerous sport of sports, I feel the hemp plant has given me more benefits than the opioids that come from the post-playing days of my career."
That's why Urrutia is part of a national nonprofit called Minorities for Medical Marijuana, which focuses on informing and educating minorities about the cannabis industry.
"Our main goal is to basically ensure that minority owners and operators are complying with the standards that are required for producing the product and to ensure that they're educated about the uses of CBD oils and the benefits of the cannabis plant," he said.
C.J. Carter, Kentucky state director for Minorities for Medical Marijuana, said they'll host a panel discussion Thursday on diversity in the cannabis industry.
"Our goal is to start the process for individuals to start networking, organizing and also collaborating," Carter said. "We are at the precipice of a multibillion-dollar industry. So individuals need to be prepared and need to be proactive for what's to come."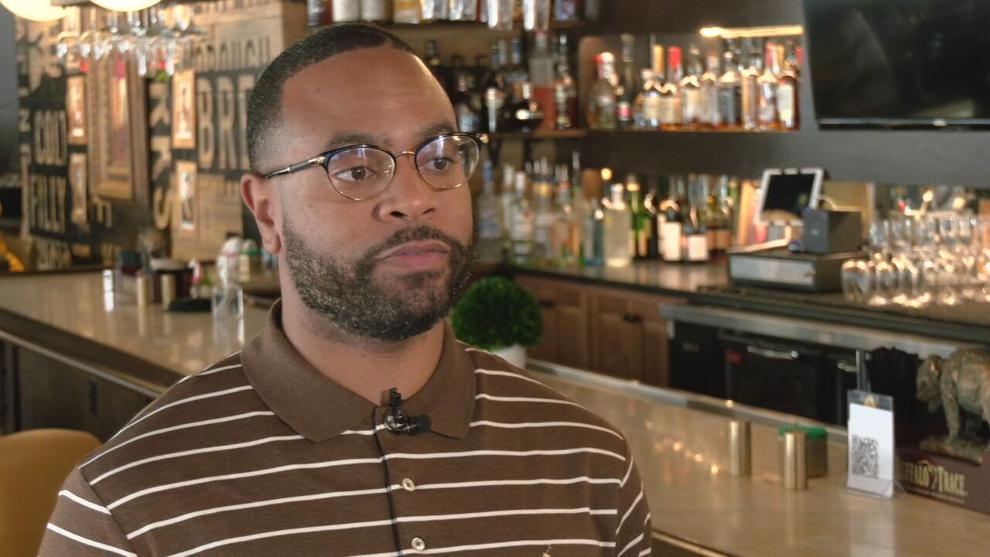 The panelists include Urrutia, Glenn Sullivan, chancellor of Sullivan University, Rep. Attica Scott, and Kungu Njuguna, smart justice advocate and policy strategist with the American Civil Liberties Union.
Sullivan University also has a nine-month/24-credit-hour course in Cannabusiness Studies.
"The first class was actually introduced this past summer," Carter said. "It's for medical professionals, business people as well as entrepreneurs."
Carter said by legalizing medical marijuana, Kentucky would simply be returning to its roots.
"Once upon a time, Kentucky was known for hemp as well as tobacco," Carter said. "So that industry was actually built on the backs of slave labor. They actually called it here in Kentucky the n***** crop, because it was a very laborious and intense crop to actually get involved with."
Scott, D-Louisville, echoed Carter's statement.
"Up until the mid-1900s, marijuana was legal in the United States," she said. "But then it became something that folks looked at as LatinX folks were using, so it became criminalized. So the reality is it was legalized. So we're getting back to where we were."
Scott said the people they represent also want to see marijuana legalized for medical purposes.
"It's important for us to answer the calls of the people that we serve as legislators and our neighbors who are crying out for us to legalize and decriminalized marijuana," she said. "People need it for medical purposes. Folks want it for recreational reasons,. They certainly don't want it to be something that they're arrested and tried for."
On the other wide of the debate, HB 136 has been strongly opposed by The Family Foundation of Kentucky.
"While we are deeply sympathetic to those who suffer from chronic pain and other illnesses, there remains in the views of many, insufficient scientific evidence that marijuana is an effective pain-relieving agent and the National Institute on Drug Abuse still considers marijuana to be addictive and a 'gateway drug' to using other drugs," said David Walls, executive director of the Family Foundation.
"Other states' attempts to legalize medical marijuana have revealed unintended consequences, such as easier access to children, a segment of our population that is particularly vulnerable to the harms of addiction and abuse of marijuana. We have also repeatedly seen that the legalization of medical marijuana leads to the legalization of recreational use. It's for these reasons that we respectfully oppose HB 136."
HB 136 still has to get through the Kentucky Senate, but members of Minorities for Medical Marijuana are hopeful.
"Here we are in 2022, where cannabis is back on the slate of being legalized," Carter said. "We are just trying to ensure that individuals who look like us actually get our piece of the pie in this industry due to the history that Kentucky has."
To register for Thursday's event, click here.
Related Stories:
Copyright 2022 WDRB Media. All Rights Reserved.