'Taste' and 'smell' of coral reefs provide
insight into dynamic ecosystem
By Robert Monroe
Coral reefs are hotspots of biodiversity and are amazingly productive with a vast number of organisms interacting simultaneously. Hundreds of molecules that are made by important members of the coral reef community were recently discovered by a team of scientists led by researchers at UC San Diego's Scripps Institution of Oceanography. 
Together, the molecules—modified amino acids, vitamins and steroids—comprise the "smell" or "taste" of corals and algae in a tropical reef, and will help scientists understand both the food web dynamics and the chemical ecology of these ecosystems.
This study provides the first snapshot of the diversity of dissolved chemicals floating among coral reefs and a window into the interactions among organisms that scientists are just beginning to understand. 
"There were several surprises with our findings," said Scripps Oceanography marine microbiologist Linda Wegley Kelly, co-lead author of the work. "First, very few molecules were universal to all five of the organisms we studied. Even the two species of corals made few of the same molecules—more than 85 percent of the molecules we measured were unique to just one specific organism." 
The study demonstrated the release of more than 1,000 distinct molecules with diverse structures, pointing the way forward for new explorations into marine natural products.
The study was co-led by the University of Hawai'i at Mānoa and the NIOZ Royal Netherlands Institute for Sea Research. It was published Feb. 1 in the Proceedings of the National Academy of Sciences.
TOP PHOTO: Mo'orea reefscape. (Photo: Shayle Matsuda/ UH SOEST)
---
Cookie shortage: Supply chain issues leaves
San Diego Girl Scouts scrambling
The supply chain is thinner than a Thin Mint this season. It's stickier than the caramel drizzled on Samoas. And it's changing faster than you can say Tagalong.
Girl Scouts in San Diego and Imperial Counties are dealing with a cookie shortage this year that's left troop leaders frazzled and parents stressed as their kids get a crash course in running a business during a pandemic. Adventurefuls, the newest brownie-inspired creation, are hard to come by. S'mores, the crunchy graham sandwich cookies with chocolate and marshmallow filling, are also nearly impossible to find.
---
Meet Grace, the ultimate Girl Scout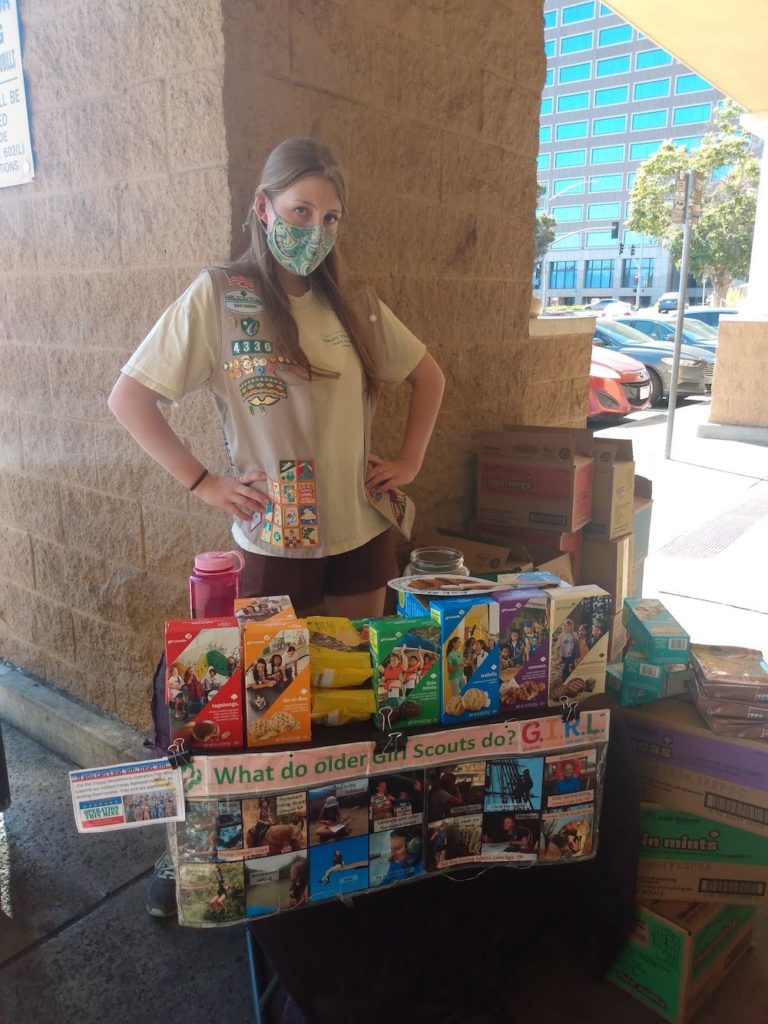 Despite the apparent Girl Scout cookie shortage, Grace Martin, daughter of Dawn and Ross Martin of San Diego, can reflect on her many accomplishments when she's out selling cookie boxes in the current cookie selling season.
At the Girl Scout level, Grace, a member of Troop 4336, is an Ambassador, the designation for girls in the 11th and 12thgrade. Grace, 17, is a senior at San Diego High School. She's an Elite Entrepreneur in cookie sales and a Youth Leader in the Girl Scout Backpacking program.
During her Girl Scout adventure, Grace led numerous service unit encampments, and led badge workshops for younger scouts.
She've even become a U.S. and world traveler, attending the Tall Ship Sailing School in Ohio and South Africa. This summer, she and her troop will fly off to Europe, visiting Paris, London, and Freiburg in Breisgau, Germany.
Currently, Dawn is working on a patch program called Adulting, a program that encompasses life skills like cooking, finances, car maintenance, household chores, health care, mental health, exercising, finding a place to live, getting a job, budgeting, civic responsibility.
This will be Grace's last year selling cookies. She mentioned this in an interview she gave to KUSI-TV News this past Sunday. 
To see and hear Grace's cookie story, and to order cookies, click here for Grace's Cookie World.
---
San Diego mayor proposes five-year email 
retention policy — longest in state and nation 
San Diego Mayor Todd Gloria is proposing a new email-retention policy that he says would make San Diego one of the country's most open with its email records. The proposal would require the City of San Diego to keep emails and make them available to the public for five years.
"While some local governments have email-retention policies as short as 60 days, and many have used two years as the standard, this policy I'm proposing for the City of San Diego to retain emails for five years demonstrates our commitment to transparency while also managing taxpayer dollars responsibly," Gloria said. "I'm proud of the fact that, with the adoption of this policy, the city will have the longest e-mail retention policy and the state and nation." 
The proposed five-year email-retention policy would cover the full term of any city elected official, plus one additional year. It also allows the city to follow industry best practices by defining a formal policy that balances its business requirements with the people's right to access public documents. The policy would go into effect on Feb. 1, 2023.
---
Study: Almost all kids have tobacco on their
hands — even in non-smoking homes
By Sarah White
Young children touch everything — carpets, tabletops, toys, clothes, etc. — and then touch their mouths and faces. This makes them especially vulnerable to thirdhand smoke, the toxic chemical residue from tobacco smoke that lingers on surfaces for years after someone smokes or vapes.
Educating parents and other family members about reducing children's exposure to thirdhand smoke through banning smoking in homes and cars is necessary, but a new study, published in JAMA Network Open, suggests these individual protective measures are not enough.
A team of researchers from San Diego State University and the University of Cincinnati used a novel method of swabbing the hands of children 11 years of age and younger to measure the levels of nicotine present, an indicator of thirdhand smoke exposure. 
More than 97 percent of the 504 children in the study had some level of nicotine present on their hands. More surprisingly, more than 95 percent of children with no tobacco-using family members and home smoke bans still had nicotine on their hands.
---
Hungry for love: Gut molecule discovered
that flips the feeding-to-mating switch
By Mario Aguilera
On Valentine's Day, couples all over the world enjoyed romantic dinners to celebrate love and relationships. The association between nutrition and mating is not unique to humans but is reflected across species throughout the animal kingdom. However, direct physiological links connecting food consumption and reproductive behaviors were not suspected until recently.
Scientists from the University of California San Diego studying fruit flies report that a molecule released from the gut after a meal switches their focus from eating to mating.
Published Feb. 9 in the journal Nature,  the researchers found that protein-rich food triggers the release of diuretic hormone 31, or "Dh31," a signaling molecule discovered to be released from the fly's gastrointestinal tract. 
Their identification of Dh31, a neuropeptide considered to be a type of chemical messenger, opens the door to the largely unexplored area of gut-to-brain communication beyond feeding behavior.
---
Southwest Airlines, Spirit Airlines and
FedEx Express win 2021 Fly Quiet Awards
The San Diego County Regional Airport Authority has named Southwest Airlines, Spirit Airlines and FedEx Express as winners of its 2021 Fly Quiet Awards, which which recognizes airlines for their efforts to reduce noise during arrivals and departures at San Diego International Airport.
Each of the airlines had no curfew violations and their increased utilization of quieter next-generation aircraft. The international carrier category was excluded due to COVID-related service suspensions. 
The Fly Quiet Program uses a scoring system based on specific, scientific metrics that measure how quietly they operate, such as the types of aircraft they use, how loud those aircraft are, and their adherence to the airport's curfew which prohibits departures between 11:30 p.m. and 6:30 a.m. 
"2021 was a challenging year for airlines, and despite those challenges Southwest Airlines, Spirit Airlines, and FedEx Express all managed to achieve no curfew violations while optimizing their fleet to operate quieter more efficient aircraft at San Diego International Airport," said Kimberly Becker, Airport Authority president and CEO. 
---
Emily Meeson and Christopher Schon promoted
to partner at Tyson & Mendes LLP
National civil defense firm Tyson & Mendes LLP announced the promotion of Emily Meeson and Christopher Schon from senior counsel to partner. They are based in the firm's San Diego office.
Emily Meeson is based in the firm's San Diego and Orange County offices and focuses on employment practices litigation defense, including wrongful termination, sexual harassment, retaliation, and wage and hour claims. She has extensive litigation experience, including representing individuals and businesses in state courts throughout Southern California. She earned her Juris Doctor from California Western School of Law. 
 Christopher Schon specializes in high exposure, catastrophic personal injury and general liability defense. He also assists privately held businesses in state regulatory and compliance matters. Schon has prepared and argued numerous trial and pre-trial motions that disposed of causes of action and resulted in significantly reduced exposure against his clients. Schon earned his Juris Doctor from Western State College of Law.
 
---
Black women more likely to die from
breast cancer than White women
Breast cancer makes up a third of all cancer diagnoses for black women and for those with the most common type of cancer, ER-positive (estrogen or oestrogen positive) cancers, black women are 42 percent more likely to die of the disease than white women.
 The reasons for these disparities are complex and include socio-economic factors and racism. There is also a historical absence of samples from black women in research databases and lack of inclusion in clinical trials. 
Researchers at Stanford Burnham Prebys Medical Discovery Institute at La Jolla have discovered significant differences at the molecular level which could explain some of the disparities. In research published in the journal, Therapeutic Advances in Medical Oncology, Dr. Svasti Haricharan and her team found significant differences in black women in the all-important DNA damage repair genes, the proteins which form our body's first line of defence against damage to our DNA. Haricharan tells Marnie Chesterton that these findings have real-world implications for the treatments black women should be offered and when.
---
Cal State San Marcos to sign agreement
to open more doors to Black students
Cal State San Marcos is signing an agreement this month with a group of community-based organizations representing the interests of Black students that strives to increase educational access and social mobility.
On Feb. 26, CSUSM President Ellen Neufeldt will sign a memorandum of understanding with a group called the Coalition on Black and African American Education, a collection of community-based organizations that works to close educational equity gaps related to historically underrepresented students.   
As part of the five-year agreement, beginning this fall, CSUSM will guarantee admission to incoming first-time freshmen and community college transfers from members of the coalition who have met the minimum entrance requirements of California State University and other criteria.  
For its part, the Coalition on Black and African American Education will commit to helping qualified students apply to CSUSM and promote the university as one that supports first-generation, underrepresented and low-income students, among other efforts.  
---
Women's association and North Island Credit Union
offer scholarships to African American students
For the second year, in partnership with North County African American Women's Association (NCAAWA), North Island Credit Union is offering $10,000 in college scholarships to college-bound female students of African American descent in North County San Diego.
Four $2,500 NCAAWA/North Island Credit Union scholarships are available to graduating high school seniors, current ROP, trade school, college and/or graduate students in Carlsbad, Escondido, Fallbrook, Oceanside, San Dieguito, San Marcos and Vista. Special consideration will be given to students pursuing degrees in education.
In addition to the North Island Credit Union scholarships, NCAAWA is providing multiple scholarship programs to qualified North County students. More information about all NCAAWA scholarships can be found at ncaawa.org/scholarships. Online applications will be accepted through April 30, 2022.
---
Sony Electronics' is the No. 1 mirrorless
camera brand for 2021 in North America
Sony Electronics Inc. – a leader in digital imaging– continues to lead the industry in bringing mirrorless technology to the world. Following a year of innovative product introductions such as the Alpha 1, Sony Electronics announced that it was the No. 1 mirrorless camera brand and full-frame mirrorless camera brand in 2021.  This past year also marks the 8th consecutive year Sony has held the No. 1 position in full-frame mirrorless cameras. Sony has announced it was the No. 1 mirrorless lens brand in 2021v as well.
The success of the lineup of full-frame cameras, including the Alpha 7S, Alpha 7R and Alpha 9 series, has been paramount to Sony's strong sales numbers. These have been complemented by the popularity of the Alpha 7 III, which continued to be the No. 1 selling full-frame interchangeable lens camera line for the fourth year in a row. For lenses, Sony's full lineup of 65 different E-mount models highlighted by their flagship G Master series continues to drive industry growth.
---
San Diego law firm Gupta Evans & Associates
becomes Gupta Evans & Ayres
Jake Ayres has been named a shareholder in Gupta Evans & Ayres, a San Diego-based law firm.
Ayres  brings his litigation and counseling expertise in three main practice areas: real estate litigation, land use, and cannabis/hemp.
Ayres is an advocate for the emerging and expanding legal cannabis and hemp industries, using his thorough knowledge of the constantly evolving laws, statutes, and regulations applicable to guide his clients through any regulatory or business disputes they may be experiencing.
 As part of his cannabis law practice, Ayres has experience in writ of mandate proceedings between retail operations and public entities, private money lending disputes, and internal investor/partner conflicts.
Ayres graduated from UCLA in 2010 and graduated magna cum laude and Order of the Coif from the University of San Diego School of Law in 2014. In law school, Jake was a lead articles editor for the San Diego Law Review and served as a judicial extern for Judge Janis Sammartino of the United States District Court for the Southern District of California.