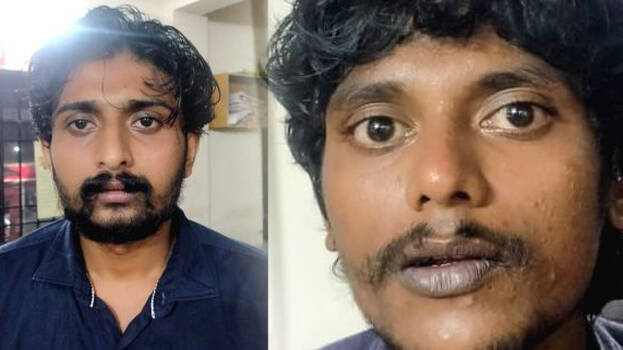 KOCHI: Two youths who were arrested following the death of a cleaning worker in the Kaloor car accident, have been charged with POCSO cases as well. The Ernakulam North police have registered cases against Jithu (29) of Thrippunithura Aranjani house and Sony (25) of Thrippunithura Perumpalliyil house, for raping school students after giving them cannabis.
A cleaning worker in the city was killed and another was seriously injured by their speeding car near Kaloor Pavakkulam temple on Thursday night. The car, which did not stop after the accident, then crashed into two other autos. The locals then stopped the car at Kaloor Deshabhimani junction and handed over the accused to the North police. Cannabis and beedis were found in the dash box and trunk of the car. In addition to a case for causing the death of a person by speeding, a Narcotic Drugs and Psychotropic Substances (NDPS) case was also registered against them for possession of cannabis. The accused were granted bail that day.
Some eyewitnesses had said that three school girls were also present in the car. It was following the eyewitnesses' claim that the police investigated the matter further and found the girls. The minor girls were sexually abused after intoxicating them with drugs. CCTV footage had confirmed the presence of the girls in the car. The girls told the woman police officers that the accused had sexually abused them after giving them cannabis.
The court remanded Jithu and Sony who were arrested on Saturday. Jithu is a medical representative whereas Sony is unemployed. The car is in Jithu's brother's name.
Girls escaped
After the accident, the accused went ahead with the car and immediately dropped off the girls in the road. The girls soon escaped. The three girls have admitted that they were physically assaulted. Out of the three, one girl has undergone a medical examination.
Relation through Instagram
The youths trap the girls through Instagram and Facebook. They pretend to be in love with the girls and sexually exploit them after giving cannabis. This is the method followed by the youths.
TAGS:
CRIME,
YOUTHS,
POCSO,
KALOOR,
CAR,
ACCIDENT,
SCHOOL GIRLS,
TRAPPED,
SEXUAL ABUSE