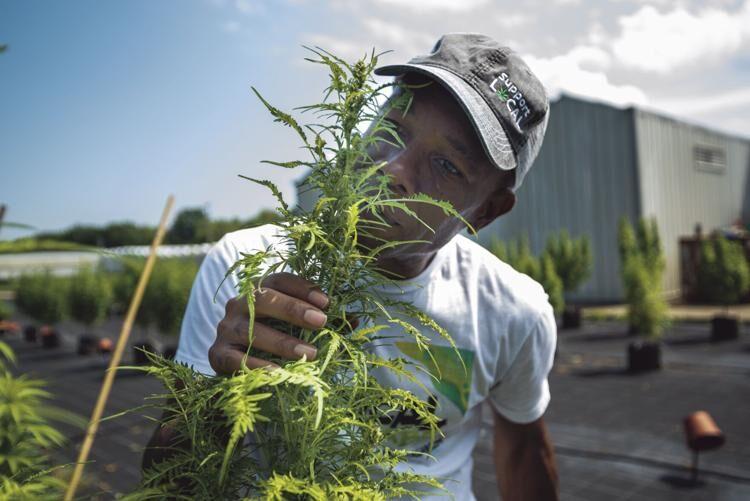 Alongside redistricting, one of the hottest topics in the Tennessee legislature right now is cannabis. In fact, there has been a record number of cannabis-related legislation filed this year, according to industry lobbyists.
The legislation runs the full spectrum. For instance, Rep. Darren Jernigan (D-Old Hickory) has proposed limited expansion to Tennessee's existing medical cannabis program, while Rep. Bob Freeman (D-Nashville) is ready to "rip the Band-Aid off" the cannabis conversation via full legalization, for both medical and recreational purposes.
But it's not just superminority Democrats. Some Republicans are pushing proposals of their own, as they have in recent years to limited effect. Rep. Chris Hurt (R-Halls) filed a bill that seeks to "legitimize" the cannabis industry by taxing and regulating psychotropic hemp-derived cannabinoids like Delta-8 that contain more than 0.1 percent THC (current federal regulations limit THC to 0.3 percent).
With the bill filing deadline looming this week, here's a breakdown of the three most expansive pieces of cannabis legislation proposed thus far:
---
The most recent piece of cannabis-related legislation was filed Monday by Rep. Jason Powell (D-Nashville). Powell's proposed constitutional amendment would legalize the sale of medical cannabis in Tennessee. As it stands, Tennessee's medical cannabis program allows patients with fewer than a dozen qualifying conditions to possess cannabis products. It does not allow the cultivation, sale or purchase of medical cannabis in the state.
Tennessee patients have to travel to another state to obtain medical cannabis. Moreover, most states with medical programs — including neighboring Alabama, Arkansas and Missouri — require patients to be a resident of the state to qualify for a medical license that would allow them to purchase products. Illinois is the closest state for Tennessee patients to purchase medical cannabis legally.
"It's completely ludicrous that we are making some of Tennessee's sickest and most vulnerable drive at least two hours to get their medication," Powell said.
Powell's proposed amendment would also create a statewide registry with the Department of Health to track the number of patients who are authorized to use medical cannabis and create a uniform letter of diagnosis for Tennessee doctors.
Lastly, his proposal would create a 4-percent tax on the sale of medical cannabis. The revenue generated from the tax would go toward health care initiatives for veterans. Some medical cannabis advocates are not pleased with the proposed tax Powell included and don't feel that there should be a tax on medicine.
This resolution isn't Powell's first pass at medical cannabis. In 2018, he submitted a resolution that would have made the legalization and regulation of medical cannabis a state issue.
---
Freeman collaborated with the Tennessee Growers Coalition on HB1968, also called the Free All Cannabis in Tennessee (FACT) Act. The bill would legalize the cultivation, manufacturing, transportation and sale of marijuana for both medical and recreational use. It would restrict the sale and use of the products to individuals 21 and older. Pediatric use is allowed under the proposal if authorized by a physician.
Additionally, the legislation would require annual licenses for cannabis retailers, wholesalers and transporters. The exact cost of the licensing fee is not stipulated in the bill, but the bill gives the Department of Agriculture the power to set the rate. However, the bill does define a 10-percent statewide excise tax on retail sales. It also allows counties and local municipalities to tack on an additional sales tax — up to 5 percent — on top of the state tax.
Freeman's bill is even more progressive than the existing framework in Colorado. The FACT Act would allow households to grow up to 12 cannabis plants without a license. Colorado only allows up to six plants in a residence. On average, a single homegrown plant could yield about a pound of marijuana every three months, according to Derek Besenius, the owner of LabCanna, an East Nashville cannabis company specializing in hemp-derived products.
This is the first piece of cannabis legislation Freeman has proposed. However, he said the issue has been on his mind since he was elected.
"When I was knocking on doors campaigning three years ago, the first thing people would ask me was, 'are you for the legalization of marijuana?'" Freeman told the Post. "At first, I thought it was a trap question, but my constituents are genuinely passionate about the issue. Tennesseans are ready."
(Freeman's father, Bill Freeman, owns the Post.)
Though he is passionate about the cause, he thinks it is unlikely the bill will go anywhere.
"Even though something like 68 percent of Tennesseans support the legalization of marijuana, I doubt 68 percent of the legislature will vote to pass the bill," Freeman said.
---
House Bill 1690
Hurt's bill seeks to regulate the existing cannabis industry, specifically psychotropic hemp-derived cannabinoids, which include products that have more than 0.1-percent THC (current federal regulations limit THC to 0.3 percent). This includes products containing the newly popular Delta-8 but not pure CBD products, which do not contain THC.
His bill would create a licensing requirement for retailers and wholesalers of psychotropic hemp-derived cannabinoids, establish a 6.6-percent excise tax on the wholesale of hemp-derived cannabinoids and limit sale of psychotropic hemp-derived products like Delta-8 to those 21 and older.
---
Why the interest?
There are several factors influencing this new crop of cannabis-related legislation. Tennessee remains one of the few states that lacks a comprehensive medical marijuana program.
But much of the push has come from the Tennessee Growers Coalition, which bills itself as a non-partisan group for the full legalization of cannabis. Freeman and Hurt both worked with the TGC on their bills.