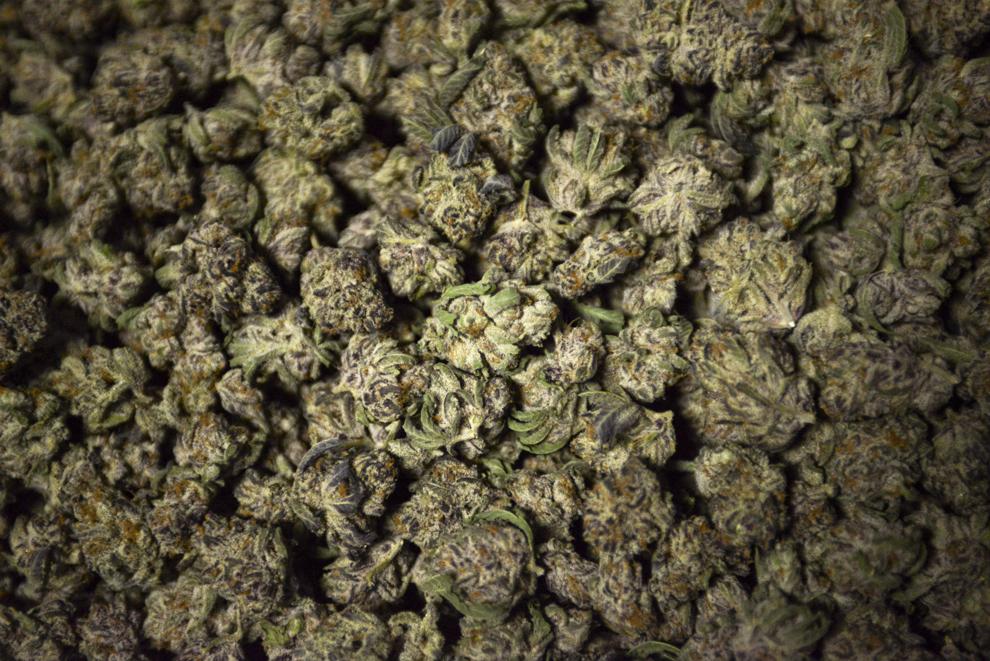 On Jan. 1, the first day of recreational marijuana sales in Montana, Elliot Lindsey's dispensary, Grizzly Pine, saw about five times more business than normal on an average Saturday.
But by the next week, business slowed. The dispensary was doing a little more than twice what it would do in medical sales.
Lindsey, who is grateful for the support Bozeman has shown his business, said he felt a bit shortchanged after hearing grandiose promises from lobbyists and analysts about expected demand after legalization.
"People were gearing up for a huge demand," Lindsey said. He upped his inventory, worried he'd run out of product. So far, that hasn't happened. "At this point, it's irresponsible to continue to perpetuate this fantasy that all of a sudden five times the number of people who never smoked weed before will start consuming."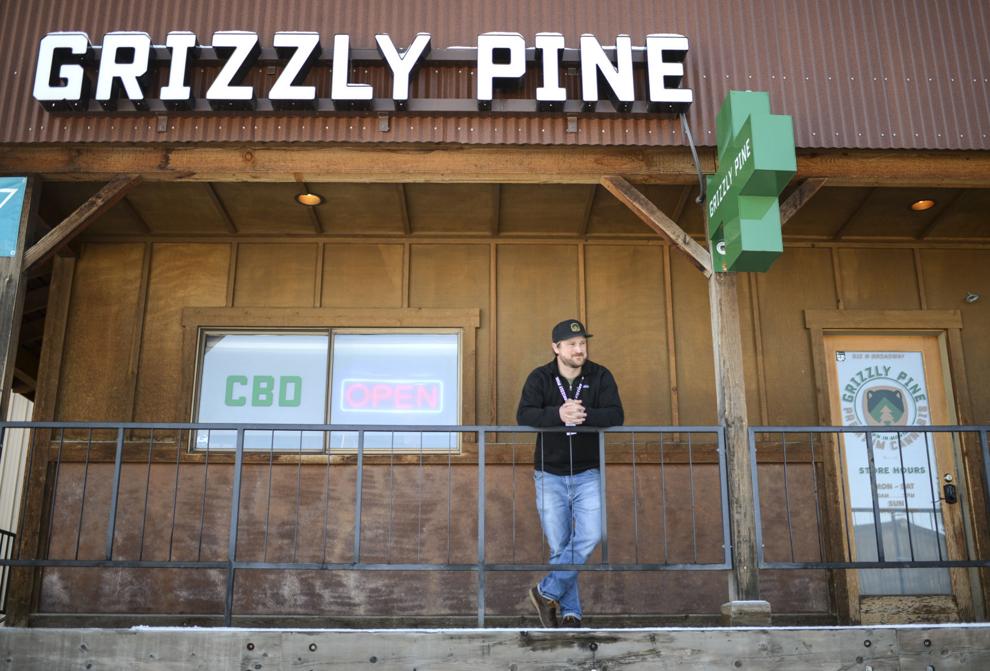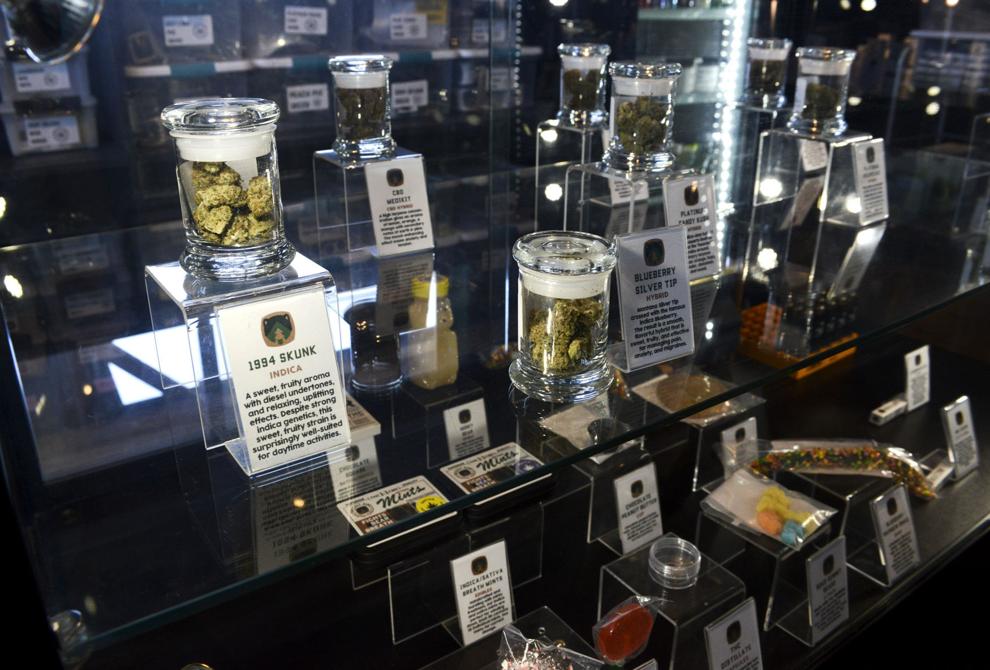 Some Bozeman dispensary owners felt the same way after the first month of sales. Now Lindsey and others are worried about thin margins, higher operating costs and changes to some administrative rules.
Sales rolled out in 29 counties on New Year's Day for adults 21 and up, who can now legally buy up to to 5 ounces of marijuana, or its equivalent, per month.
The first weekend of January, sales topped $1.5 million statewide. But after the robust weekend, a lull in sales worries some dispensary owners, especially those who have expanded based on sales projections.
Medical marijuana has been legal in Montana since 2004. In 2020, voters approved legalizing recreational use. The start of recreational sales was on hold until 2022. Purchasing recreational marijuana remains prohibited in 27 so-called "red counties" in Montana — although medical marijuana remains in place.
"Red counties" around Gallatin, ones that have not voted to legalize adult-use marijuana sales, include Broadwater, Meagher, Stillwater, Sweetgrass and Wheatland.
Recreational sales have a 20% statewide tax, and Park County opted to implement a 3% local excise tax on sales.
When asked on Jan. 25, the Department of Revenue's Cannabis Control Division said it could not share January's year-to-date sales until the end of the month. The division also said it could not look up sales county-by-county when asked for specific sales totals in Gallatin County.
Nic Meehan, a manager at Medicine Creek Caregivers on West Babcock Street, said the dispensary has not seen a heavy increase in foot traffic. Across its five locations, in Billings, Butte, Wolf Point and Ennis, shelves didn't empty out during the first few weeks.
"We've had new people every day still interested in checking this out, but generally it's a lot of people who were daily buyers that were already medical card holders," Meehan said.
Mariah Bond, the chief operating officer for Euphoria Wellness, was optimistic after a good first weekend for the Bozeman-based dispensaries, but said initial demand following the first weekend failed her expectations.
Their flagship location, in Four Corners, didn't do especially well. New Year's Day, it still did about three times its normal sales. Since then, demand has quieted.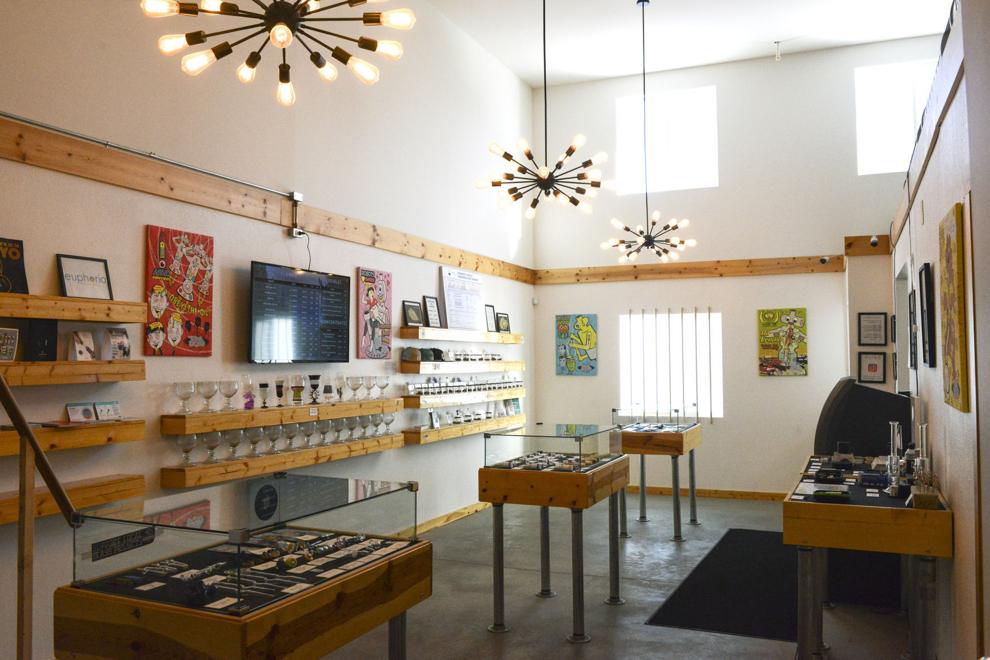 Lindsey and Bond both said they expect to see an increase during the summer tourism months — but they're unsure how much that might equate to — and feel somewhat nervous after January didn't do as well as they anticipated.
A University of Montana Bureau of Business and Economic Research report in 2020 estimated nonresident sales would be a nearly $30 million chunk of the $217.2 million in sales projected to happen in 2022.
Some dispensaries are taking the bet that recreational demand will continue to climb, and have worked to expand since last year.
Lindsey opened Grizzly Pine about five years ago. Although opening a cannabis business was hard then, he said he's happy to already be established.
"I'm grateful we were able to build a business in Bozeman and get in when we did, there's so much happening everywhere," he said. "It's like a gold rush."
In October, the city of Bozeman adjusted zoning requirements for marijuana facilities. The biggest was removing a longstanding 20-storefront cap on how many dispensaries can operate in the city.
In late November, eight marijuana providers, including Lindsey, sued the city wanting to reinstate the cap.
Ultimately, the courts sided with the city. The injunction was lifted at the end of December.
Since Jan. 1, the city of Bozeman has received five applications for marijuana business licenses, city spokesperson Melody Mileur said in an email.
As of Jan. 25, two licenses had been given conditional approval to the state.
The city, Mileur explained, issues conditional approval letters to the state. The state then goes through its process to issue a location specific license. After a state license is issued, the city of Bozeman would issue an official business license.
Still, some dispensaries are moving fast. A "coming soon" sign hangs at 1009 W. College St., where a new Greener Pastures dispensary is set to open.
Greener Pastures, which also has a location in Four Corners, didn't return a message seeking more information on the second Bozeman location.
Euphoria Wellness is also planning another expansion in the Bozeman area.
The dispensary is opening two new grow centers around Bozeman. That's to supply its four dispensaries and begin wholesale production.
Previously, each cannabis provider had to grow, produce and retail all their own products. Now, businesses can sell products to other businesses.
Euphoria Wellness also plans a second location, off Jackrabbit Lane, to open in the spring, Bond said. That is to hopefully catch tourists on their way to Big Sky, she said.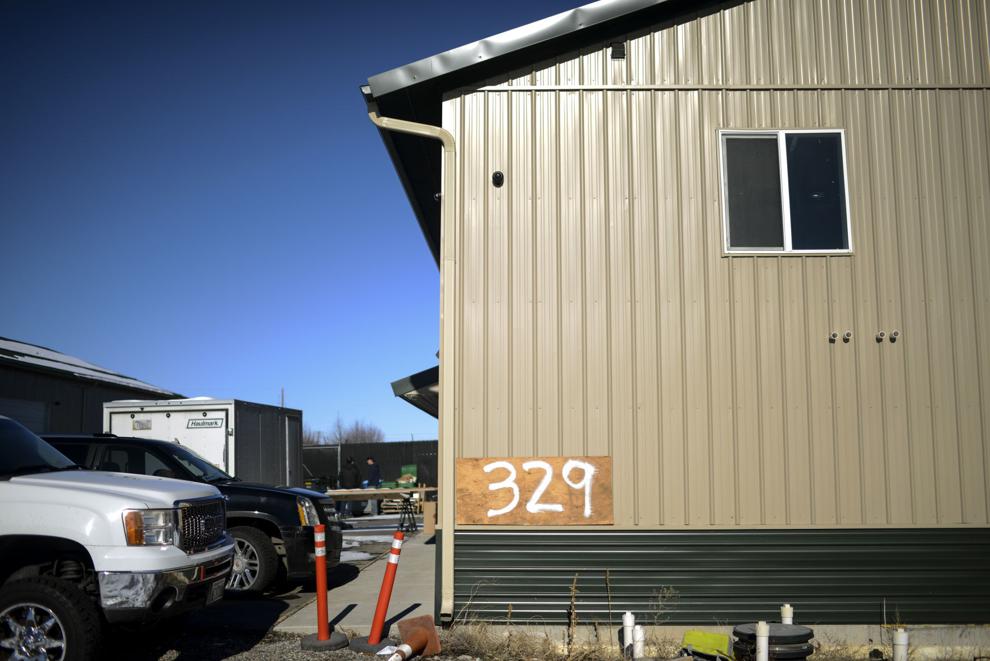 Juniper Cannabis, a downtown dispensary, recently opened a storefront in Belgrade and two new grow facilities. That was to accommodate the anticipated growth, the owner told The Chronicle.
Lindsey, who owns Grizzly Pine, is taking a more measured approach. He's working to establish some connections to wholesale products, but isn't looking to expand into more locations.
"The market in Montana is oversaturated," Lindsey said. "When you add more supply to a small area like Bozeman, with the idea there's all this pent up demand, people will start to have to be competitive."
The Department of Revenue lists about 80 cannabis providers in Gallatin County, broken down by town. Fifty-three are listed for Bozeman, which includes Four Corners. Two of those are listed as medical providers only.
Lindsey isn't sure the Bozeman population can support that.
Bond said sales were much better in their Hamilton location than in Bozeman or Missoula. On New Year's Day, the Hamilton dispensary saw five times as much sales as all other locations combined.
She thinks that's because Hamilton has much fewer dispensaries per capita. The Department of Revenue lists five dispensaries in Hamilton, one of which is medical only.
J.D. "Pepper" Petersen, president of the Montana Cannabis Guild and an owner of a Helena-based dispensary, headed up New Approach Montana, a large campaign in 2020 to legalize marijuana.
Petersen said projections haven't been overinflated.
While he understands business owners' concerns, he said the market has been robust and anticipates even more demand as more tourists filter in.
"The demand was as forecast and continues to be so," Petersen said. "We're seeing some shortages, depending on the products."
Petersen said he hadn't heard disappointment from any dispensary owners over demand.
What Petersen has heard, which was echoed by dispensary owners who spoke to the Chronicle, was frustration over administrative regulations and higher costs associated with running businesses.
As part of a "head start" for existing Montana dispensaries, there's a year-long halt on licenses for new business or for out-of-staters.
Until 2023, the department can only accept applications and issue licenses to former medical marijuana licensees that were licensed by or had an application pending on or before Nov. 2020.
Most of those regulations, Petersen said, were meant to foster growth but have stymied the ability of smaller businesses, with fewer resources, to expand.
"Things are being weighted for the larger businesses already," Petersen said.
Funding expansions is hard, since many banks don't want to fund an industry that is still prohibited federally, so many dispensary owners have to front the cost themselves. Rushing to expand to ensure they stay above water will be hard for smaller dispensaries.
Thinner margins and the likelihood of more competition worries him.
One changed, Lindsey noted, was the city of Bozeman upping the price of a cannabis-business licensing free from $150 to $750.
Another statewide change that has challenged Lindsey is an update to employee agent badges — which are required for those seeking to work at a cannabis-business.
Prior to Jan. 1, Lindsey said the process was cheap and quick. Prospective employees could pay $10 to get a badge online.
Now, employees must have a physical badge before they can work. To get those, they have to get a finger print and background check before the Department of Revenue issues approval.
The time-consuming and sometimes costly finger-printing has been a barrier to him hiring more people.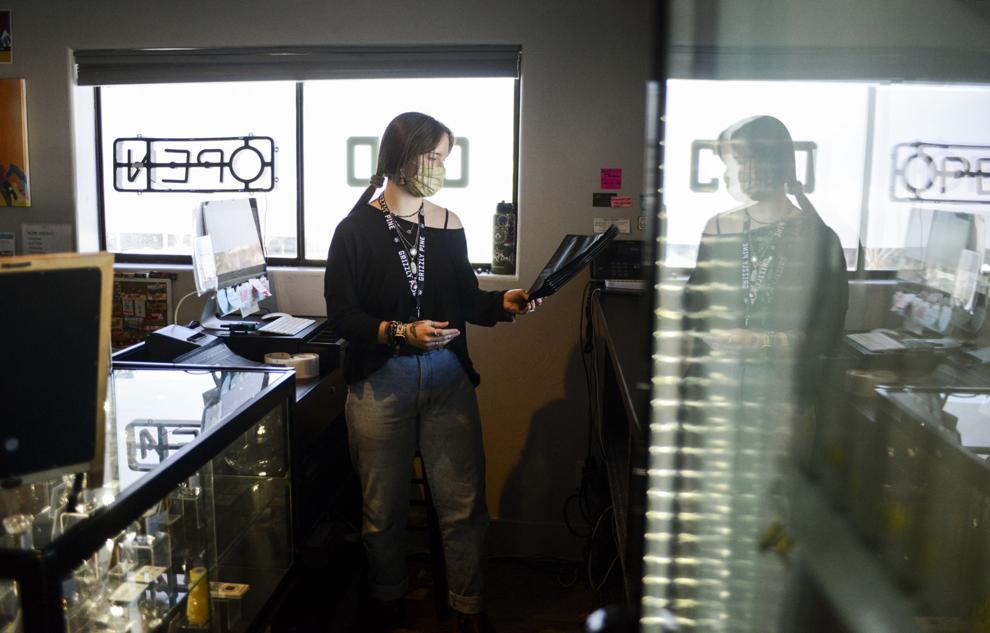 Bond has run into the same issue with high costs for employees to get agent badges.
"Depending on the town you are in, you could be paying over $105 to get a license to work for us," Bond said, saying the price depends of the cost of finger printing.
Lindsey has seven open positions. Some employees have been out due to COVID-19. It has made it hard to staff his dispensary on North Broadway Avenue.
Bond said the cost to manufacture has also gone up. She said a license to manufacture less than ten pounds of concentrate used to cost $500, and has now gone up to $5,000.
"I think it's headed in the direction where the small guys are going to be hurting," Bond said.
Petersen, who has spend the last three years lobbying for recreational marijuana, said it'll be a continual uphill battle to ensure local businesses' interests are protected, especially after 2023 when larger out-of-state cannabis companies will be able to move into Montana.
"It's David versus Goliath right now in the administrative rule process," Petersen said. "And this is going to be the battle for the next decade."