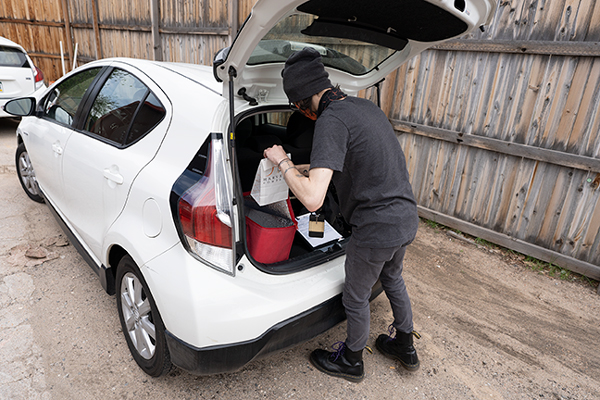 CENTENNIAL | Colorado is launching a new Cannabis Business Office, which aims to create economic opportunities and local jobs in the state's cannabis industry.
Last year, Aurora created its own program, giving deference for pot delivery business licenses to applicants living in areas called "opportunity zones, hard hit by poverty and other social demographics.
The office was established through Senate Bill 21-111. Under the Colorado Office of Economic Development and International Trade, it will grant loans to social equity licensees — dispensary owners who qualify for a state program that aims to increase diversity in the cannabis industry. It will also award grant money to those owners to support job creation and innovation.
People eligible for social equity licensees include Colorado residents who haven't owned a marijuana business and those who have either lived in a state-recognized "opportunity zone" for at least 15 years. The pool also extends to people who live in a household making less than half of the state median income, or members of families that have faced judicial repercussions for cannabis offenses.
Initial funding comes from a $4 million transfer from the Marijuana Tax Cash Fund, the sum of all tax revenue collected from cannabis sales. Future legislative sessions may choose to appropriate more money from the cash fund towards the office.
The new office will be headed by Tristan Watkins, who formerly worked as the Chief Science Officer of Boulder-based dispensary Lucidmood.
"The Cannabis Business Office will provide novel and ambitious programming to provide more equitable opportunity in the cannabis industry," said Watkins. "As the office expands, we are confident it will further solidify Colorado as the leader in the nation's cannabis industry."
Since legalizing recreational use of cannabis in 2012, the state has taken steps to foster equity in the industry, but for Black and Latino populations — who have been disproportionately impacted by marijuana laws before legalization — progress is slow. A new state report found that Black and Latino populations are still arrested at a higher rate than white peers. The arrest rate for Black people remains more than double that of whites.
Robin Peterson, manager of the Aurora's Marijuana Enforcement Division,  has already awarded some social equity transporter permits, allowing the applicants to ferry marijuana on behalf of licensed retail proprietors in the city under an ordinance that went into effect earlier this year. The permits were the first of their kind issued by a municipality in the state. 
"The idea is to get them into the industry," Peterson said of the new applicants. "Back when we did this, at least in my experience, for retail it was all people who had the money and who could do it. This is a way for (social equity candidates) to dip their toe into the industry, and I have to say they've done real well. They've put a lot of work into all this."
The pandemic saw a spike in delivery and takeout as people moved away from indoor shopping and dining, including finally being able to order alcohol to go. Marcus hopes the interest in delivery will stick around for cannabis.
"People have sort of been trained to move towards those kinds of services," he said.
Terrapin Station is working with High Demand Delivery as its social equity partner, which will be in charge of making deliveries.
Sarah Woodson, one of High Demand Delivery's owners, said that the business will make veterans and people of color a priority when hiring delivery drivers, and sees the role as an entry point into the cannabis business.
She praised Terrapin for being the first to outsource delivery to a social equity partner instead of trying to figure it out in-house.
"In order for social equity to work, there has to be a collaborative relationship between dispensary owners and delivery," she said.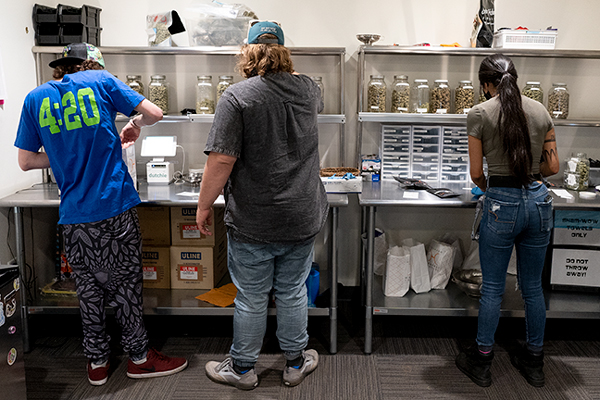 The deliveries are discreet and perfect for people who know exactly what they want and don't need to go into a store as well as for people who might not feel comfortable going into a dispensary, she said.
Aurora earlier this year became the first in the state to allow business-to-consumer marijuana delivery and has since magnetized eyeballs as other municipalities follow suit. Denver rolled out its own delivery system July 1. Under the current city codes, marijuana products can be delivered to other cities that approve recreational delivery and vice versa.
"A lot of other cities have watched pretty closely what we did," said Curtis Gardner, an at-large Aurora city council person who currently serves as chairman of the city policy committee that deals with marijuana issues. "We're the trailblazers with that, and I think that's exciting."
In Aurora, recreational marijuana can be delivered to homes between 8 a.m. and 10 p.m by licensed dispensaries, though the city still outlaws medical marijuana sales. Deliveries are capped at one ounce of marijuana, eight grams of marijuana concentrate and 80 ten milligram servings of THC per business day.
The social equity component of the city's new system has dovetailed with similar efforts at the state level designed to get minority workers into an industry that is overwhelmingly white. 
About 86% of licensed marijuana business owners in the state are white, according to demographic data compiled by the state Department of Revenue. Of the some 1,500 business owners who participated in an April survey, 213 reported identifying as Asian, Black, Latino, mixed race, Native American or Native Hawaiian. 
About 69% of the nearly 16,500 marijuana employees who filled out the survey identified as white, though that data is largely incomplete as 24,300 additional employees did not disclose their race. 
States, including Colorado, are making progress toward a more diverse marijuana industry but so far the push for social equity has been plagued with years of delays and litigation, said Karen O'Keefe, director of state policies at the Marijuana Policy Project. So far, the goals to broaden diversity in cannabis boardrooms, retail shops, production plants and greenhouses have far outstripped realities. 
And disappointment with the slow rollout of equity programs has taken on a deeper resonance at a time when the nation is undergoing a racial reckoning, brought on by cases of police brutality and punctuated last year by the death of George Floyd in Minneapolis.
In some cases, aspiring social equity licensees have been locked up again, this time in predatory contracts, with profits and control largely in the hands of investors. In others, they've been overmatched in a cutthroat market dominated by international companies valued at millions and sometimes billions of dollars.
Despite a spurt of recent Colorado legislation intended to spur equity among the marijuana realm, states themselves have been slow to establish and grow programs.
Reporting by Sentinel Colorado's Quincy Snowdon was added to this report.