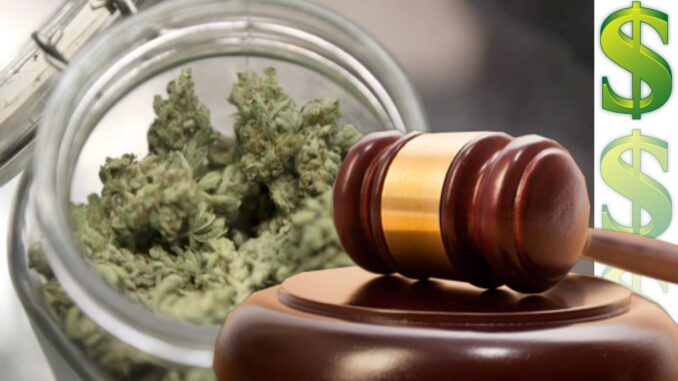 PASCACK VALLEY AREA—Despite nearly 2:1 support for licensed adult-use recreational cannabis in the Pascack Valley — and statewide — almost every Pascack Valley town has declined to clear the way for any of six types of pending cannabis licenses here.
Municipalities have until Aug. 21 to pass ordinances opting out of the industry or amending their zoning ordinances to stipulate where such businesses may be be located. 
If a municipality does not opt out by Aug. 21 it must accept licensed cannabis businesses in certain zones for five years. If towns opt out, they can opt back in at any time should they decide to.

After Aug. 21, the state's Cannabis Regulatory Commission can accept proposals for licenses for grower, processor, wholesaler, distributor, retailer, and delivery ventures.
Proponents have said they see a big upside on revenue and a more just criminal justice system.
The Township of Washington Township passed an ordinance in June prohibiting retail cannabis sales. It plans to vote, Aug. 9, on a measure that prohibits all six classes of cannabis licenses. If this passes, the township would be the last in the Pascack Valley to opt out altogether — though elected leaders valleywide are watching to see how the issue shakes out
Under new laws signed by Gov. Phil Murphy in February, adult use or possession of up to 6 ounces of marijuana (or 17 grams of hashish) is no longer a crime, as long as it's a state-licensed retailer and grower.
Separate from this, there are 20 licensed medical marijuana dispensaries statewide, with another 24 pending approval by the CRC.
As Business Insider noted this month, "Recreational marijuana is legal for adults in 18 states and Washington, D.C. Medical marijuana is legal in 37 … meaning a majority of Americans have access to cannabis, whether medically or recreationally."
Pascack Press reached out to the mayors of Emerson, Hillsdale, Montvale, Park Ridge, River Vale, Township of Washington, Westwood, and Woodcliff Lake for their views on the future of the recreational industry here.
Only Hillsdale Mayor John Ruocco replied: "Declining to opt in now to any licenses gives us more time to assess how municipalities who do opt-in fare. Optionality is a valued commodity in this case."
He added, "The potential for additional revenue through taxation is a sweetener; whether it becomes a primary motive to grant licenses remains to be seen."
Recently, Mayor Janice Kovach of Clinton in Hunterdon County, president of New Jersey's State League of Municipalities, spelled out concerns and issues that municipalities have with the rollout of legalized cannabis rules while testifying before the CRC.
She said municipalities were "on the front lines of enforcement" and wanted to keep maximum local control and flexibility to manage cannabis businesses. She said the standards being developed by CRC, "should be minimum and not maximum standards."
Kovach said towns have concerns about traffic, parking, security and "standard quality of life issues." She said the state has "565 different personalities" that need to be represented. (New Jersey has 565 towns, boroughs, townships, cities and villages.)
While a half-dozen Montvale residents at an April forum strongly supported the siting of a local dispensary, the Borough Council opted out of cannabis enterprises, noting a lack of state guidance.
Councilman Timothy Lane noted that he believed marijuana was mostly an all-cash business and wondered why a consumer would buy from a legal dispensary if they could pay less and buy cannabis illegally.
Before legalization was approved via statewide referendum last November, most local mayors, council members and police chiefs were strongly opposed to legalization. The public question passed in every Pascack Valley town following failed multi-year efforts by the state Legislature to pass measures approving legalization.
In Woodcliff Lake, two candidates running for and elected to council urged consideration of a possible cannabis enterprise locally, noting that potential revenue from local taxation (the state permits up to 2% local tax on certain cannabis sales) might be worth evaluating further.
The candidates, councilwoman Josephine Higgins, a former mayor and councilwoman, and councilman Richard Schnoll, expressed a willingness to learn more about the possible licenses.
The State League of Municipalities said its unofficial tally shows more than 160 towns opting out, 20 or so opting in for some types of cannabis business, and others yet to decide.
Towns must adopt ordinances to opt-out of hosting cannabis enterprises, which generally includes ordinance introduction and then a second reading (public hearing) to finally adopt the measure.
Schnoll suggested that since Woodcliff Lake is updating its master plan, the time might be right to consider where a cannabis business could be zoned.
It was not immediately clear if a Master Plan Committee, or planner Richard Preiss, who is updating the plan, intended to consider a possible cannabis zoning designation.
Under current guidelines, the cannabis legalization law allows for a local 2% tax on receipts from each sale by a cannabis cultivator, manufacturer and retailer and one percent on each sale by a cannabis wholesaler.
"We should see whether or not it makes sense to reconsider it in town," said Schnoll, noting that a projection of likely tax revenues might be found by looking at dispensaries operating in western states and Massachusetts where legal marijuana markets exist.
He said there is a public perception that marijuana is bad and that some people still think of "reefer madness" scenarios when the topic of marijuana is raised.
He said that cannabis establishments "may actually be a bit nicer" than the physical appearance of certain liquor stores, which residents accept and are permitted by zoning.
He said while the borough opted out of cannabis operations before the Aug. 21 deadline, "that doesn't mean that we cannot revisit it. If we did not opt out by Aug. 21, then we would lose the right to control it."
He said he would hope borough officials and residents have a further discussion on cannabis, but noted that such a dialogue, "may become a highly politicized discussion" with many people strongly against cannabis use.
"I don't think we'll ever have it in Woodcliff Lake," he told Pascack Press.
He said that people opposed to hosting a cannabis business often cite alleged lower property values, increased crime, and children getting access to drugs as likely outcomes should cannabis come to town. However, under state legalization, no town can prohibit cannabis deliveries within its borders.
He said negatives cited by people opposed to cannabis businesses or cannabis in general, "may or may not have any validity" but these views color their outlook.
He said whether any cannabis business may be considered in a future land-use zone, that question also would most likely be put before voters in a public referendum.
Lori Buckelew, assistant executive director of the State League of Municipalities, said about 30 public officials, with more scheduled, will tour cannabis dispensaries in towns such as Maplewood and Woodbridge to get a better understanding of their operations.
One tour took place in early July and another is scheduled. No recreational (or adult-use) cannabis outlets are licensed yet in New Jersey.