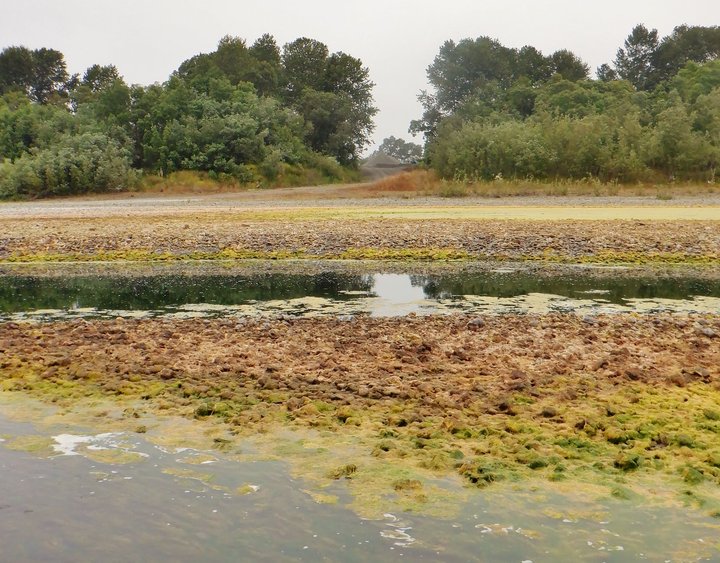 ###
The worsening drought conditions in Humboldt County dominated Tuesday's Board of Supervisors meeting, though the matter that attracted the most public attention on the agenda proved to be something of a false alarm — or a premature alarm, anyway. 
When the agenda dropped on Friday afternoon, many permitted cannabis growers were alarmed by the details of Item L2: "Report of Drought Task Force on Findings with Recommended Actions." This task force, which was formed by the board on May 25 and is comprised of officials from several agencies and county departments, was recommending a range of drought-related measures, one of which was to flip the emergency shut-off switch for a lot of local cannabis activity. 
Section 55.4.5.10 of the county's Commercial Cultivation Land Use Ordinance (CCLUO) says the county can reduce commercial weed activity during times of drought, and the agenda published Friday called on the board come back in three weeks to consider placing a moratorium on new non-domestic wells and to prohibit all new
cannabis planting after August 11, unless the grow's irrigation comes from a legal source of stored water.
Second District Supervisor Michelle Bushnell and First District Supervisor Rex Bohn said they got a lot of panicked phone calls and emails over the weekend from growers with a lot at stake financially. But during the staff presentation, Planning and Building Director John Ford backed away from the controversial suggestion, saying curtailment of grow activity should be merely a topic for study and future consideration.
The county doesn't want to cause financial harm or single out the cannabis industry, Ford said: "The fact of the matter is cannabis is the most highly regulated agricultural crop that exists in California." He also said staff is sensitive to the notion that "the compliant get screwed and the non-compliant carry on," a reference to the continued proliferation of un-permitted weed farms in the region.
More evidence and data are needed before taking such a drastic measure, and growers should be given more time to prepare, Ford said.
And so he revised staff recommendations, saying the board should go ahead and declare a drought emergency immediately but rather than curtailing cannabis activity, just ask staff to "develop a scope of work," one that includes possible revisions to well-permitting regulations and procedures for even considering cannabis curtailment. That latter measure shouldn't be taken until the board has "a factual basis" upon which to make a decision, Ford said.
As background, Ford said his department has been issuing a lot more cannabis cultivation permits recently, largely because the state plans to end its provisional licensing process next June and many locals still hold such licenses. Given the ongoing drought conditions, this uptick in cannabis cultivation permitting has sparked public concerns over the corresponding increase in wells being permitted.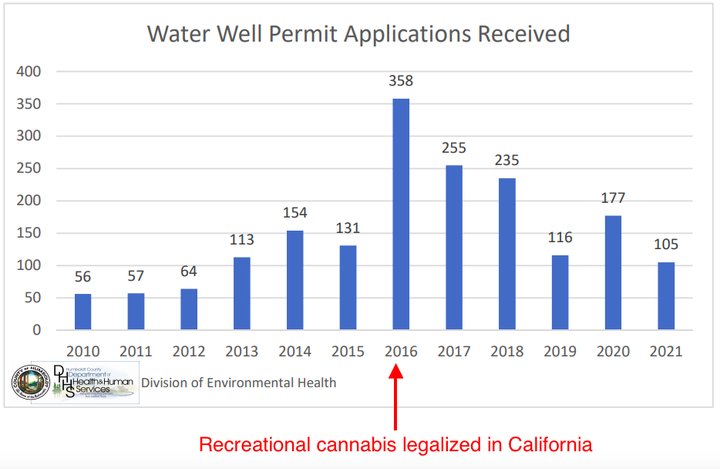 ###
Ford said public concerns may be justified but so far they lack a factual underpinning. "While there is a great amount of public concern being expressed, there is not a corresponding amount of empirical data showing that wells are going dry [or] showing that there is a crisis," he said.
Many have called on the county to employ certified geologists who can say whether or not individual wells are hydrologically connected to groundwater and nearby waterways. However, Ford said the county has had a hard time finding hydrogeologists who want to get involved in permitting wells, particularly for the cannabis industry.
It was clear during the public comment period that local growers were prepared to unload on the board, if necessary, but many instead thanked Ford for listening to their concerns. Quite a few still defended the industry and encouraged the board to work with them, rather than punishing them.
Alicia Hamann, executive director of environmental nonprofit Friends of the Eel River, said she was "pleased to see these prudent and reasonable recommendations from the task force" and warned that these extreme drought conditions should be considered the new normal. Addressing the Eel specifically, she said water levels are nearly identical to 2014, when the river dropped so low that it actually went underground, a catastrophe for migrating salmon.
Hamann urged the board to support more rigorous standards in well permitting and to curtail groundwater pumping from non-domestic wells, particularly in the Eel River basin.
Jay Russ, who raises cattle in Ferndale, said the climate on the North Coast is resilient and suggested that agricultural operators in the Eel River Basin are being targeted perhaps unfairly. He also encouraged the board to consider emergency measures to expedite gravel extraction.
Others weren't so sanguine about the future.
"This is a truly historic and unprecedented drought that we're experiencing right now," said Ronald Vevoda, a dairy farmer near Ferndale. "We may only be at the beginning."
In the end, the board unanimously approved a measure proclaiming a drought emergency. Ryan Derby, the county's emergency services manager, said the emergency proclamation "opens the door for immediate response and mitigation actions" by enabling staff to dedicate more time and resources towards addressing drought related impacts.
As for the rest — developing well-permitting criteria, considering a moratorium on new non-domestic wells, developing procedures to curtail cannabis planting and possibly identifying funding to incentivize better water management among growers — the board voted to take that one step at a time. Staff will return on August 10 with a scope of work for the board to consider.
###
A few other tidbits from today's meeting:
Next time the board meets, on Aug. 10, they'll do so in person, back inside their chambers at the Humboldt County Courthouse. There was a good deal of discussion about how to transition back out of the digital Zoom realm, and some people called in to ask the board to maintain a "hybrid" model, allowing residents of far-flung communities to call or teleconference in. The board discussed possible masking requirements, ultimately deciding to have Chair Virginia Bass announce the policy — wear a mask if you're unvaccinated — at the outset of each meeting. County staff will work on teleconferencing technology. Fifth District Supervisor Steve Madrone cast the lone "no" vote, saying he wanted to follow staff's lead, and staff had not specifically said they're ready to come back Aug. 10.
Each of the five supervisors appointed a member to the redistricting advisory commission, which will examine how best to redraw the county's five supervisor districts and present recommendations later this year. Bohn (District One) appointed Lisa Russ; Bushnell (District Two) appointed Roman Rubaclava; Wilson (District Three) appointed Camilla Zapata; Bass (District Four) appointed Brian Mitchell; and Madrone (District Five) appointed Lisa Dugan
The board authorized the below design — by local mural artist Lucas Thornton, playing with a theme from Blake Reagan — for a new mural on the county courthouse. After a brief discussion about the meaning and artistic merits of the piece ("What is this supposed to say?" Bohn wondered; "I don't love it," opined Bushnell) the board agreed to allocate $5,000 from the Public Works Department's deferred maintenance fund to pay the artists. Third District Supervisor Mike Wilson suggested doubling the recommended amount of $2,500, and the board agreed, albeit reluctantly for some members.