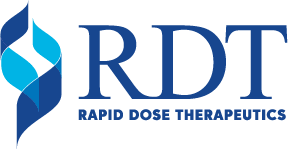 Rapid Dose Therapeutics Corp. (RDT)
(
CSE: DOSE
,
OTCMKTS: RDTCF
,
Forum
) – a consumer life sciences company providing proprietary drug delivery technologies designed to improve patient outcomes – has entered into a Master Distribution Agreement with
Namaste Technologies Inc
. (
TSXV: N
) – a subsidiary CannMart Inc. –for the exclusive sales and distribution of RDT-branded cannabis products into retail locations across Canada.
Mark Upsdell, CEO of Rapid Dose Therapeutics, commented:
"The support and encouragement we have received by our partners at CannMart has been extremely valuable and we look forward to working with their established sales network across Canada on the commercialization of our RDT-branded cannabis. This strategic alliance will drive sales of the RDT-branded cannabis products while equally allowing RDT management to remain laser focused on the Company's core business, including vaccines and pharmaceutical products."
Full story here.
About Rapid Dose Therapeutics
Rapid Dose Therapeutics Corp. is a publicly-traded Canadian Life Sciences company providing innovative, proprietary drug delivery technologies designed to improve outcomes and quality of lives. RDT offers Quick, Convenient, Precise and Discreet™ choices to consumers. RDT is focused and committed to clinical research and product development for the healthcare manufacturing industry — including nutraceutical, pharmaceutical and cannabis industries. RDT's service-based annuity contracts drive recurring revenue and facilitate rapid expansion into emerging markets across multiple consumer segments. RDT is committed to continually create innovative solutions for humans, animals, and plants.
New to investing in Cannabis? Check out Stockhouse tips on How to Invest in Cannabis Stocks and some of our Top Cannabis Stocks.
For more of the latest info on Cannabis, check out the Cannabis Trending News hub on Stockhouse.
FULL DISCLOSURE: Rapid Dose Therapeutics Corp. is a client of Stockhouse Publishing.