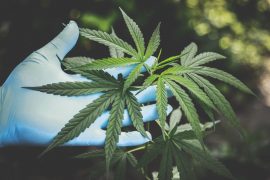 Helping Hands, a Cass County non-profit organization, which offers emergency services to families such as food, clothing, medicine and household essentials is pleased to be the recipient of a $5,000 donation.
Who is the donor?
Nick Sayers and Peter Bobeck, co-founders of Highway Horticulture, and Sunset Coast Provisions.
Highway Horticulture, a Michigan-based cannabis company announces and invites the public to the grand opening and ribbon cutting ceremony at 4:20 p.m., on Friday, July 2, to its first retail cannabis shop, Sunset Coast Provisions, 980 E. State Street, Cassopolis.
Sunset Coast team says its donation to Helping Hands is part of its community giveback initiative to support families in need in southwestern Michigan.
"It's critical for our company and our team to support the Village in achieving its vision and ensure those most vulnerable are not left behind and have the necessary resources to live their lives," according to Bobeck.
"Our team can't wait to introduce the unique Sunset Coast retail experience to both locals and visitors who share our love of the Michigan coastline and the belief that cannabis is an amazing plant that can add immensely to the enjoyment of life," says Sayers.
The entrepreneurs hope Sunset Coast's in-store shopping experience will be of value for those seeking the finest quality cannabis products Michigan has to offer.
"We want to provide the relaxed, down-to-earth environment and positivity of Midwestern lake life with easy-going, friendly and knowledgeable service for all of our guests from the cannabis-curious to cannabis connoisseurs," said Sayers.
Sunset Coast is one of two cannabis retailers in Cassopolis, and the only one with a license to open a consumption lounge on property.
Cassopolis-Vandalia Chamber of Commerce President Billie Hires is confident the cannabis shop will create positive roots in the community.  Hires says"It's a pleasure to celebrate the arrival of Sunset Coast, whose team has already shown their dedication and appreciation for the Village of Cassopolis. I have no doubt Sunset Coast will be an asset to our village and an engaged, active participant in our business community.".
Sunset Coast serves medical patients and recreational consumers 21+, and offers a 10-percent discount to veterans and seniors. In addition, shoppers can place online orders and take advantage of curbside pickup service. Cash and debit card payments are accepted and an ATM is available on site.
Sunset Coast is open Sunday, Monday and Tuesday 10 a.m.-6 p.m.; Wednesday and Thursday 10 a.m.-8 p.m.; Friday and Saturday 10 a.m.-9 p.m.
Visit sunsetcoastprovisions.com for more information.