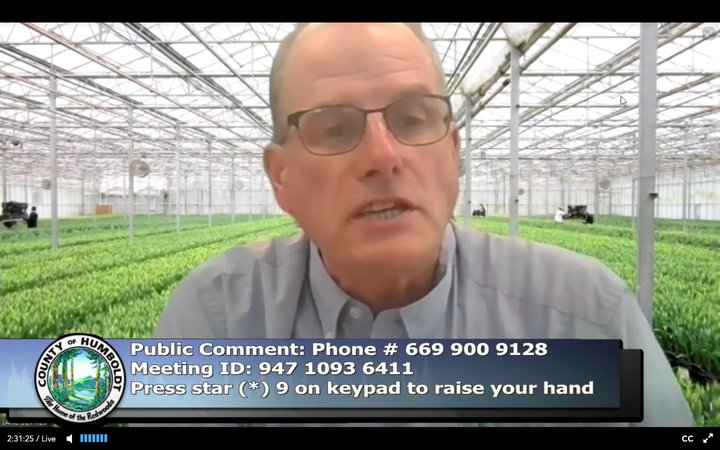 ###
PREVIOUSLY
###
After more than six hours of often meandering deliberation on Tuesday, the Humboldt County Board of Supervisors opted to punt the decision on Sun Valley's proposal for an eight-acre cannabis farm in the Arcata Bottoms. The hearing for this controversial project was continued to July 13. 
All five supervisors expressed a willingness to allow Arcata Land Company (a Sun Valley-controlled entity) to establish a grow operation next to the existing flower bulb farm, but they had widely divergent criteria in mind for the appropriate size and conditions of approval.
In the end, three of the five — First District Supervisor Rex Bohn, Second District Supervisor Michelle Bushnell and Fourth District Supervisor Virginia Bass — said they'd be willing to consider permitting a grow of more than two acres. Bushnell's support is contingent on the effectiveness of odor-control technology, and she asked county staff to reach out to officials in Santa Barbara County and ask how well the proposed technology is working at established cannabis farms there.
Third District Supervisor Mike Wilson, meanwhile, said he is unwilling to approve a grow any larger than two acres because that's the established limit on lands zoned for agriculture. While the property in question is currently zoned heavy industrial, during the county's long general plan update process a previous iteration of the Board of Supervisors decided to convert it to ag zoning, in part because the City of Arcata requested that change. County staff, however, has yet to implement that zoning change due to various bureaucratic and litigation-related delays.
Public comment was pretty hot in this one. The Outpost will have a more thorough recap of the meeting on Wednesday.