New Jersey's attorney general announced Tuesday that the state's Division of Consumer Affairs has issued warning letters to four companies for allegedly trying to circumvent local marijuana laws by "gifting" "free" cannabis with orders of high-priced snacks.
While recreational cannabis use for adults 21 and older was approved by New Jersey voters in 2020, the state's Cannabis Regulatory Commission has been slow to establish firm vendors' rules and hand out licenses. In response, impatient would-be vendors are trying to find workarounds.
"In legalizing adult-use cannabis in New Jersey, the Legislature made it clear they were creating a regulated market with restrictions on how that market operates," said Attorney General Gurbir S. Grewal in a press release.
"Instead of waiting for those regulations to be established, some vendors have decided to move forward on their own, in ways that the law does not allow. Today we're making it clear that we will not permit these entities to undermine the regulated cannabis marketplace the Legislature created or to compete unfairly with properly licensed cannabis businesses."
NJ Green Direct, Sky High Munchies, Slumped Kitchen, and West Winds Wellness are the four companies that were named in the release as recipients of the warning letters.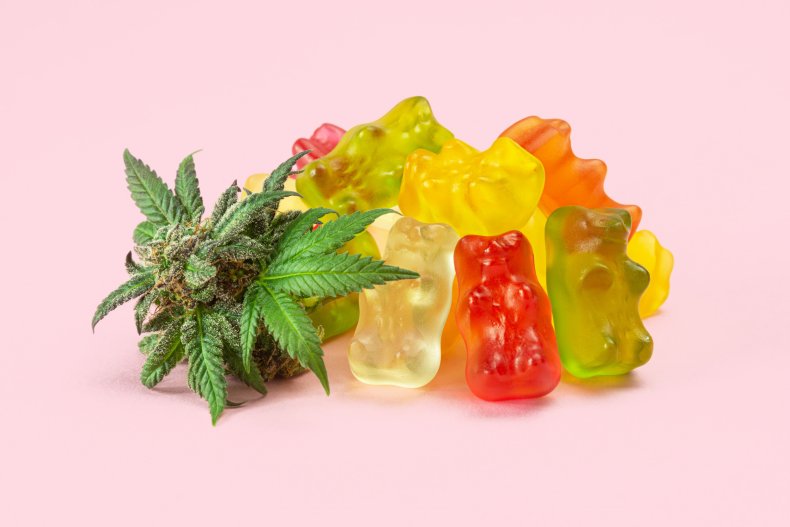 Under current New Jersey law, recreational vendors don't have licenses yet, but one possible loophole is that giving away free pot as a "gift" is arguably legal. However, that fact is in contention.
What some companies are doing is presenting one product up for sale, and advertising cannabis products as a "free gift" that comes with the sale of the legal product. The legal product, however, is priced as if the consumer is paying for the cannabis.
For example, on the Sky High Munchies website, users can buy a "Sky High Movie Night" small snack bag that includes nuts, rice crisps, fig bars, an almond bar, and water. Customers then choose a "free gift" from a drop-down menu, where you can choose from several THC-containing products. The cost of the snack bag? $165.
"By inaccurately claiming to give free 'gifts' of cannabis or marijuana along with the purchase of snacks, baked goods, or other products—generally at exorbitant prices—a company may violate the Consumer Fraud Act, the Division's Advertising Regulations, and other laws or rules," the statement said.
If any of the companies listed are found guilty, they could be on the hook for $10,000 each for a first violation and $20,000 for any subsequent violations.
"We will not allow vendors to misrepresent what they're selling," said Kaitlin Caruso, Acting Director of the Division of Consumer Affairs. "Under our consumer protection laws, vendors are subject to fines and penalties for making false or misleading statements about what they're selling. We have warned these companies about our concerns, and to stop conduct that could violate our laws."
Newsweek reached out to the New Jersey CannaBusiness Association for comment.