If the volatility of cannabis stocks wasn't enough, enter the Reddit army. And they are focusing on Tilray (NASDAQ:) (TSX:).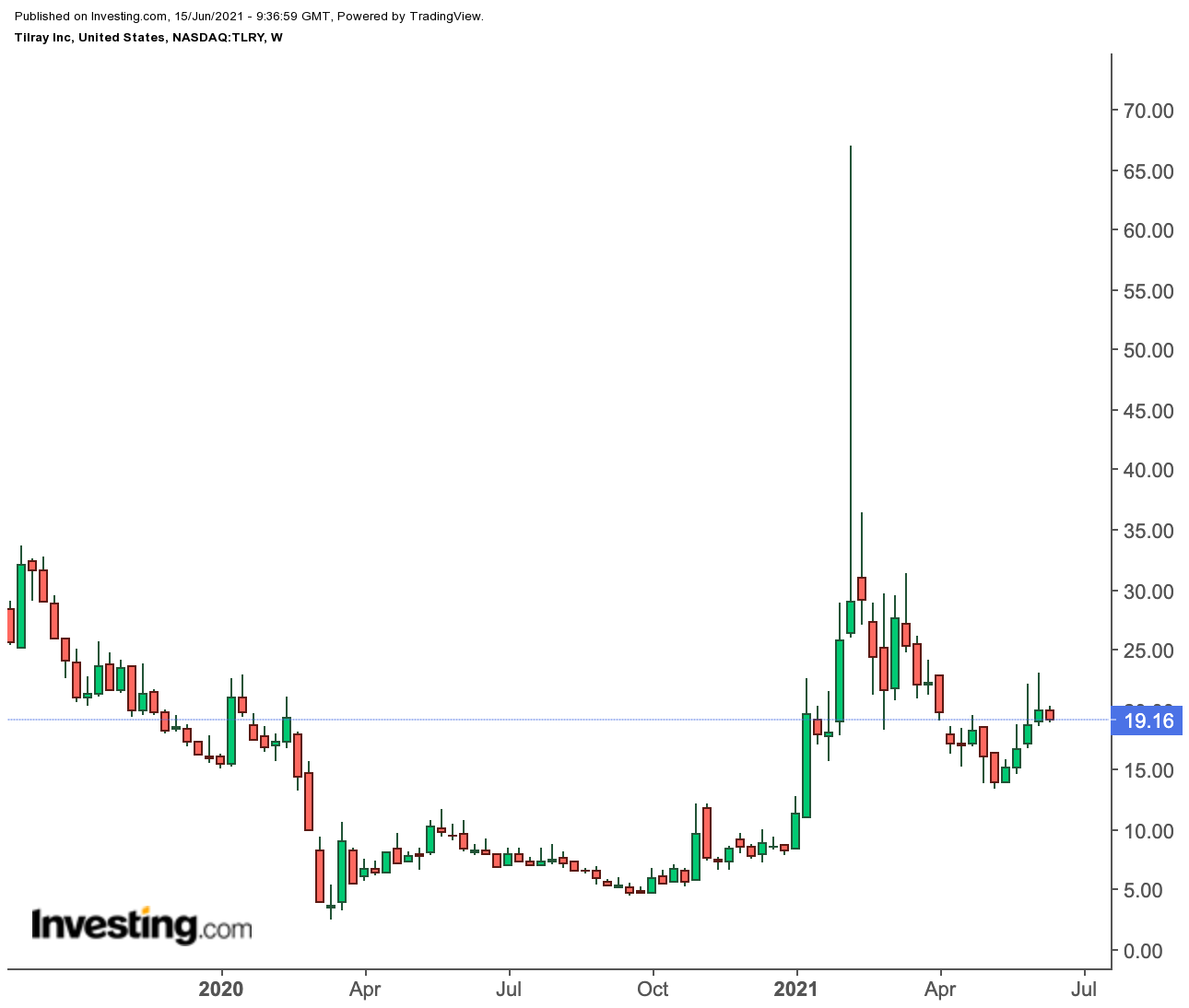 The Canadian-based marijuana grower has been in the news of late, having completed a merger last month with Aphria (NASDAQ:) to create the world's largest cannabis company by . The newly combined company, which trades under the Tilray name, has a market cap of $8.57 billion.
In the last year, Tilray shares have gained more than 135%, a much larger overall gain than any of the other marijuana companies, like Canopy Growth (NASDAQ:) (TSX:), which is up about 52% in the last 12 months and Cronos Group (NASDAQ:) (TSX:), which has seen its stock gain 37% in the last year.
But with the added attention of the legion of Reddit retail investors turning their attention to the pot stock, Tilray stock is making moves.
Is this a good thing?
That, of course, is a matter of perspective.
Tilray CEO Irwin Simon is pleased with the focus from Reddit followers. In an interview with CNBC last week he said:
"I'm very, very supportive. We love them. That group of Gen Z that are out there trading within our stock today, they're technology savvy. They're retail savvy. They're brand savvy. You want them as investors."
Short-sellers, on the other hand, are finding themselves in a tight spot. Having shorted the stock that has gained since the merger with Aphria, all of sudden they are not in a comfortable position.
The stock has gained about 10% since May 25, hitting a recent high of $22.50 last Wednesday. But it gave back some of those recent gains, closing yesterday $19.16—a sign that short sellers may have taken back some ground.
But the attention foisted on Tilray in recent trading sessions has not had the same effect as what the market has seen with other meme stocks. 
For one, the volume of shares traded in recent days has been much lower than the levels seen with other meme stocks.
Shares of Tilray hit $64 in early February, but that was short lived. That one-day blip was linked to the merger as investors attempted to capture the spread between Tilray and Aphria shares.
But in this post-merger period, the attention surrounding Tilray from meme chasers might overshadow the fundamentals. The company now has a large share of the Canadian market, which is projected to expand to an CAD$8 – $9 billion market. It now stands at about CAD$3.5 billion.
Taking over much of Aphria's reach also gives it a good footing in Europe and South America. Not to mention it is now perfectly poised to expand into the US as soon as federal legalization in the American market is given the green light.
But keep an eye on meme action in the short run.