Though the United States and Canada can appear to be similar in terms of culture and preferences, there are key differences to keep in mind when navigating franchising opportunities. Ari Powell, CEO and a founding partner of Giraffe Foods— a custom private label manufacturer of sauces, dips, dressings, etc.—shared insights during a webinar, "COVID's Cross-Border Issues and the Cannabis Opportunity," as part of a Legal Eagles Roundtable event presented June 10 by Franchise Times.
For example, Canadians are broadly more embracing of new ethnic cuisines, Powell said.
"You generally see Canadians are a little more cutting edge, and you see some state-by-state differences as well in the U.S., but Canada is more like a California market than a Missouri market," Powell said. "Those kinds of cultural differences generally do come into play in terms of the types of concepts that are going to be successful in the Canadian marketplace, and the specific offerings put out to Canadian consumers. Canadians I think are a little more health conscious in general."
Moderator Chad Finkelstein, a partner at Dale & Lessmann and co-chair of the Toronto firm's cannabis practice group, said "to paint a gloomier picture, with respect to restaurants, Restaurants Canada reported all segments across the restaurant industry had lower sales across 2020 and 2021." He rattled off statistics from the Restaurants Canada 2021 first quarter forecast:
In Canada, annual foodservice sales in 2021 are forecast to be $61.1 billion (CAD). While this represents a 10.4 percent increase over the $55.4 billion in sales of 2020, sales will remain 20.6 percent below 2019 levels.
Compared to 2019 levels, full-service restaurant sales are forecast to be down by 40 percent in the second quarter of 2021
By the fourth quarter of 2021, quick-service restaurants are forecast to nearly return to pre-COVID levels, down just 2% compared to Q4 2019.
Also, compared to the U.S. where more than 50 percent of restaurant operators said the pandemic made their store more efficient and productive than before the pandemic began, only 30 percent of food operators in Canada believed the same, Finkelstein said.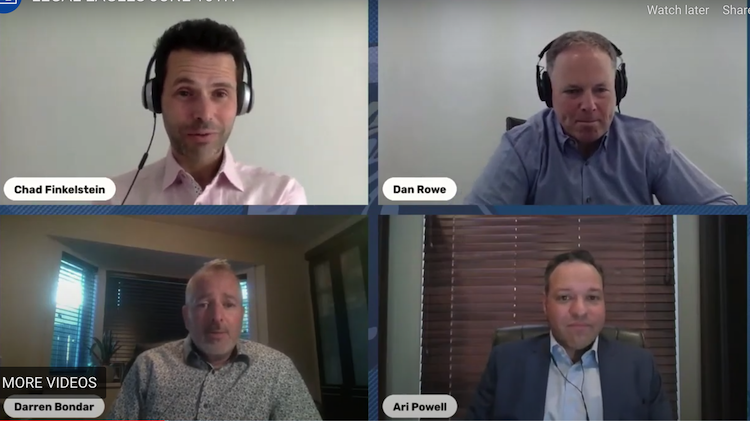 Pent-up interest from across the border. Dan Rowe, CEO of Fransmart, said the biggest issue with cross-border franchising this past year was the challenge Canadians faced of getting into the U.S. to visit a brand's discovery day, plus having staff travel for training.
"It slowed down quite a bit, but we were still selling deals, we have to just switch to virtual, and the franchisor has to do a really good job of virtually creating the whole experience and making the franchisee confident," Rowe said.
"For me, I think there's a lot of backed-up interest, and there are still lots of Canadians interested in American brands, they're just sort of waiting at the gate for the gate to open, and I think they'll come flooding in," Rowe said. Finkelstein added that Toronto has had one of the longest indoor-dining bans of any jurisdiction anywhere in the world.
On the flip side, Rowe is interested in adding a few Canadian brands to the Fransmart portfolio and is still waiting to visit Canada to try them and meet the owners. "One operator in Ontario is so frustrated at what's happening (with Canada's lockdown orders), so they're thinking about opening a unit in Florida so I can get started immediately," Rowe said.
While the Canadian-U.S. border has been closed to most recreational and business travel the past year, they've been open for goods and services, so Powell added they haven't had any supply chain disruptions—until now.
"What I will say that's impacting supply chain is actually COVID recovery more than the impact from COVID itself," Powell said. "COVID recovery, as you're aware, is creating a lot of inflation and some spikes in demand for raw materials, so I think COVID recovery and the demand surge are really what's going to be having the biggest impact on restaurant operators as the price of certain commodities skyrocketed over the past couple of months."
Despite the havoc of COVID, it did create opportunities for rent incentives for brands looking to invest and break into new markets, Rowe said. A Brooklyn Dumpling Shop franchisee, for example, had a corner space in New York originally for $8,000 per month, and was able to double his space for just an extra $2,000, plus they got the first year rent free and the second year at just 2 percent.
"These sorts of deals you can get during COVID you couldn't get two years ago and you won't be able to get two years from now," Rowe said, "so trying to convince an investor to invest right now, the deals have to be just so good they can't pass up, and they are right now."
The cannabis opportunity. "While Canadian restaurant businesses suffered mightily over the last year and a half, Canadians are consuming more cannabis than ever," Finkelstein said. Sales of recreational cannabis in Canada totaled just over $2 billion CAD by the end of 2020, representing a 120 percent increase over 2019 sales.   
Darren Bondar, CEO of Inner Spirit Holdings (Spiritleaf) led the charge and was one of the first to offer franchised cannabis retail store opportunities, even before recreational cannabis was legalized in Canada in October 2018.
"Ourselves and our franchise partners really took a lot of early risk in terms of how we were going to expand and how we were going to open stores, so before recreational cannabis was even legal and before we had first store open, we'd actually managed to sell over 100 franchise territories," Bondar said. "Each province had really yet to lay out a framework, so we were often sitting on eggshells, wondering which province is going to implement this and which isn't."
Now with 92 stores open, Spiritleaf has become Canada's largest recreational cannabis retailer. For prospective cannabis retailer franchisees, Bondar said something to keep in mind is the highly-regulated environment which means hiccups such as zoning laws determining where you can put stores, to safety measures you need to put in place to make sure you're a compliant operation.
"I think biggest thing we've learned is just that you're operating in a highly regulated industry, and for the majority of provinces as well, we have one supplier, which happens to be the province, so provinces are really controlling pricing and margins whereas Dan would know for a (typical) franchise business, you want to be able to get discounts based on volume, and that's just not permissible in the cannabis industry," Bondar said. "…So there are all sorts of idiosyncrasies and challenges, but I think the biggest benefit for franchisees is that because it's so highly regulated, because there's such a high barrier to entry, we can really provide a full complete system."
Watch the full webinar here. (The "COVID Cross-Border Issues and Cannabis Opportunity" panel begins at the 10:40 mark.)