The launch of legal adult-use marijuana sales across Arizona has gone smoothly since January, according to various stakeholders in and out of the industry, but the effects upon municipalities like Gilbert and Chandler are still to be seen.
The Safe and Smart Arizona Act passed with 60% of the vote as Proposition 207 last November, legalizing recreational marijuana in the state with a 16% excise tax placed on sales to fund public programs.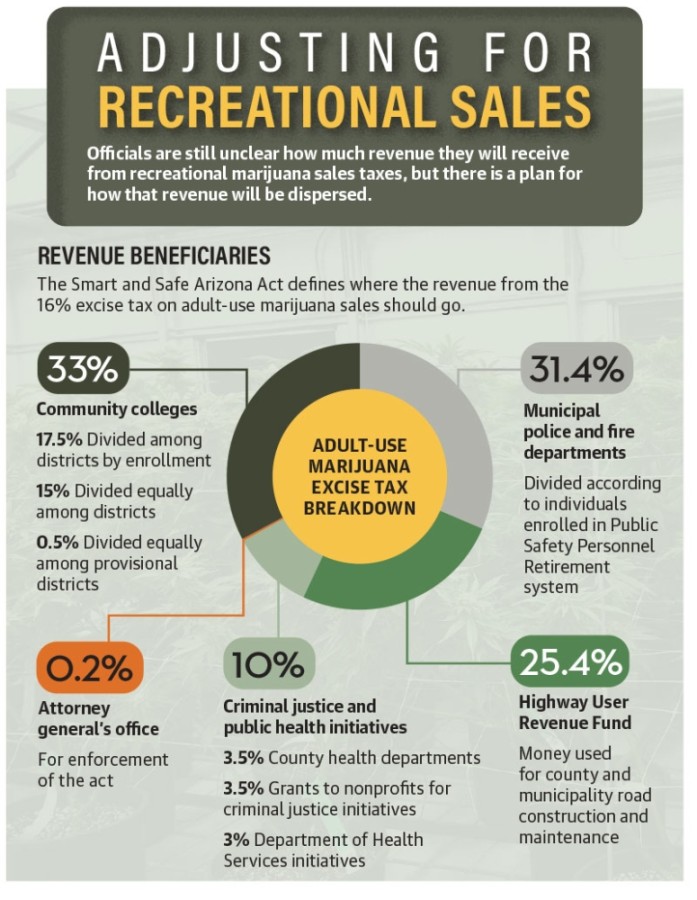 Under the act, users must be 21 or older and are allowed to possess no more than 1 ounce with no more than 5 grams of it being marijuana concentrates or extracts. However, the licenses for retailers were largely limited to established medical marijuana dispensaries, as is the case for the one dispensary in Gilbert and the five with Chandler addresses, and no new sellers are allowed in either jurisdiction.
Use of marijuana for medical purposes was legalized in 2010 by the passage of Proposition 203, which received 50.1% of the vote.
Licensed dispensaries received approval Jan. 22 from the Arizona Department of Health Services to begin serving adult-use cannabis and related products, and business boomed immediately, said Steve White, CEO of Harvest House of Cannabis, which has a dispensary in Chandler. His business increased an average of 100% at its Arizona locations since recreational sales started, exceeding his prelaunch expectations.
"It is a very exciting time for the industry in Arizona," he said. "We expect the adult-use market to attract new consumers across all demographics who are seeking regulated cannabis products and are open to learning more about the benefits of cannabis."
Demitri Downing, an industry registered lobbyist who is part of the original vanguard of Arizona medical marijuana industry leaders, is even more bullish on the fast start.
"From medical to adult use, it doubled or tripled the sales," he said. "It's been consistent for a while. Dispensaries are seeing two or three times their previous volume sold. Everyone expected that was what was going to happen because that was what was happening in other states."
Those returns mean the beneficiaries of the excise tax should see some money from the tax, but officials said until they see actual returns flow into their coffers, they are reluctant to speculate on how it will help.
City moves
Although municipalities are not counting their new cash from recreational marijuana sales yet, Gilbert and Chandler did what they could to prepare for the Safe and Smart Arizona Act.
Gilbert started Oct. 13, three weeks ahead of the vote, when Town Council unanimously adopted an ordinance prohibiting new retail marijuana establishments in town stores that sell recreational marijuana. Only medical marijuana facilities, of which Curaleaf was the only one, could offer it in town.
The ordinance also prohibited the use of marijuana at public facilities and testing facilities in town and the use, sale, cultivation, manufacturing, production, storage and distribution of marijuana on property the town occupies, owns, controls or operates.

Then, Chandler City Council voted Dec. 7 to tentatively adopt an ordinance amending the city code to allow for the regulation of recreational marijuana. Council members Mark Stewart and Jeremy McClymonds voted against the adoption of the ordinance.
Like Gilbert's ordinance, it allowed medical marijuana sellers in town to have dual licenses and prohibited testing facilities, use on city property and new recreational retail facilities. Stewart, the city's vice mayor, said he opposed the measure because he believes it created a monopoly.
"My challenge was that whoever had a license already were the only ones who could sell recreational marijuana as well," he said. "It prevents a free market and free-market opportunities. Cannabis being sold to adults that are of age—that is something the state decided for us. What we can do is make sure it fits in the framework of the city and create a buffer or smooth over the areas where the stores are located."
Downing said local jurisdictions are only now starting to figure there will not be a large influx of recreational marijuana retailers because no new licensees are allowed in the urban core but medical dispensaries can sell recreational marijuana.
"People want freedom, choice, liberty, and government has to do things like end prohibition for that to happen," he said. "It doesn't mean everyone wants to run out and consume marijuana."
Economic effects
With those issues addressed, now comes the waiting for new revenues. While municipalities are awaiting those to flow down to them, the state has received some early numbers: More than $226,000 in sales tax collection and $511,000 in excise tax collection were received in February for the portion of January where sales happened, and $3.04 million in sales tax and $4.57 million in excise tax collected in March.
Additionally, Arizona Department of Revenue has collected $2.38 million thus far in sales taxes on behalf of the state's cities and another nearly $563,000 for revenue sharing with cities.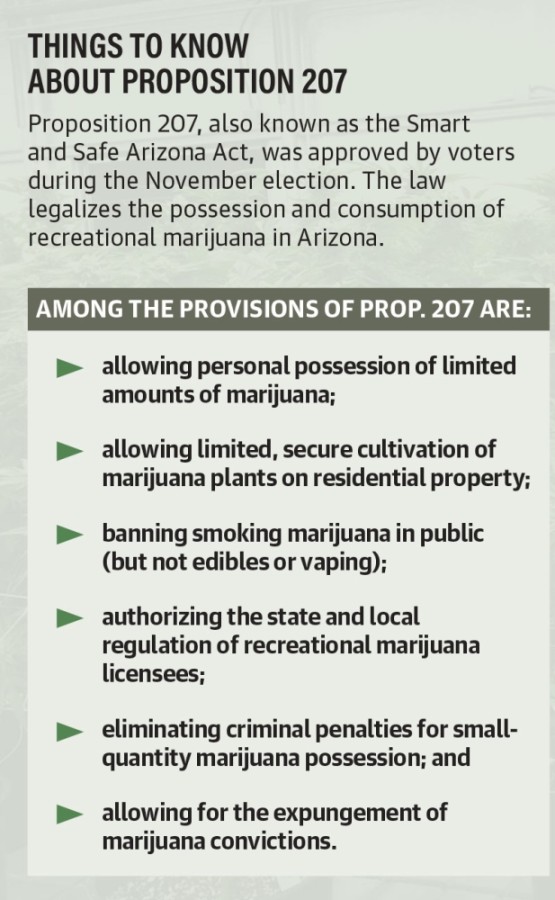 Even those numbers come with a caution, as ADOR spokesperson Michelle Carella said revenue to this point likely is underreported. The figures, for example, are short of collections for medical marijuana.
Similar to other new tax classifications the state has implemented, businesses are learning their tax obligations, setting up their systems, and learning how to file and pay.
"Our Customer Care and Outreach teams work closely with marijuana dispensaries and establishments to provide workshops, assistance in registration, and walk them through the process to comply," Carella said. "We are working with taxpayers to encourage appropriate filing and anticipate receiving returns and payments for the January and February periods in the future."
Thus Carella said it is too early to draw conclusions on revenue. Carrie Kelly, from the Arizona Association of Economic Development, agrees it is too early but still sees the benefits for down the line.
"I believe the highest percentage of that tax is going toward community colleges and that will be huge for us in economic development," she said. "We want a robust community college system for that workforce development and a piece of that is having more money going toward community college and workforce development. We are going to see the impacts of that in economic development across the state."
Gilbert Tax Compliance Manager Sara Radbury said municipalities will benefit in two areas as the law has 31.4% of the excise tax collected going to the Public Safety Personnel Retirement System that municipalities pay into, and another 25.4% goes to the Highway Users Revenue Fund, of which municipalities receive a shared portion.
However, the cities do not know what their share will be yet and are reluctant to even project it, much less count on spending it.
"I have no idea if it's going to be a $50,000 distribution or a $500,000 distribution or 50 cents," Gilbert Budget Director Kelly Pfost said.
Industry officials do expect growth. White said growth at Harvest House of Cannabis is resulting in jobs in cultivation, manufacturing and retail.
"It's been a wild ride," said Anders Mintz, marketing director for Oasis Cannabis, which has a dispensary in Chandler. "There has been a lot of growth, and it's about to get even bigger."