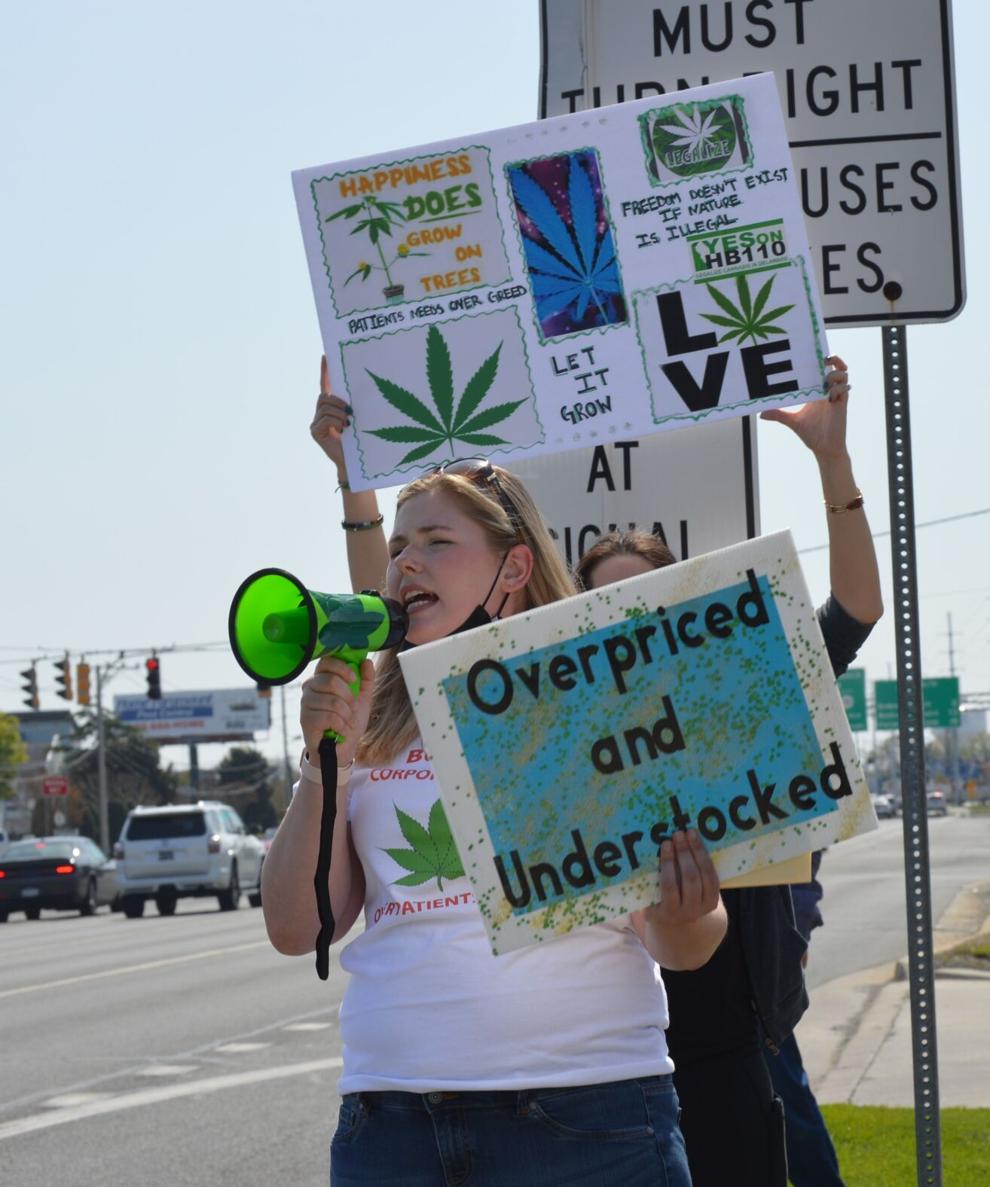 A Sussex County woman is leading an effort to boycott Delaware cannabis dispensaries whose representatives testified against proposed state legislation that would legalize recreational use for adults.
Lilyanne Ternahan of Frankford led a protest in Rehoboth Beach on Saturday, April 24, in front of Columbia Care at the Tanger Outlets Bayside location. About 12 pro-legalization protesters attended the rally, which drew honks from passing motorists on Coastal Highway during its two-hour duration.
Ternahan said at the rally that the dispensaries are using medical marijuana patients as "pawns" and that they charge "outrageous" prices to patients, who also have had to deal with lack of availability of medical marijuana products, which she said worsened during the COVID-19 pandemic.
"I want my voice to be heard," said Ternahan, who said she has used cannabis to treat post-traumatic stress syndrome. Others at the rally said they have used cannabis to treat symptoms of a variety of conditions, including cancer.
Mark Jacobs of Lewes, a cancer patient, said, "I have issues with them, too."
Jacobs, representing the Delaware Cannabis Advocacy Network at the rally, said that dispensaries such as Columbia Care "are not behaving like a medical dispensary," but more like a business.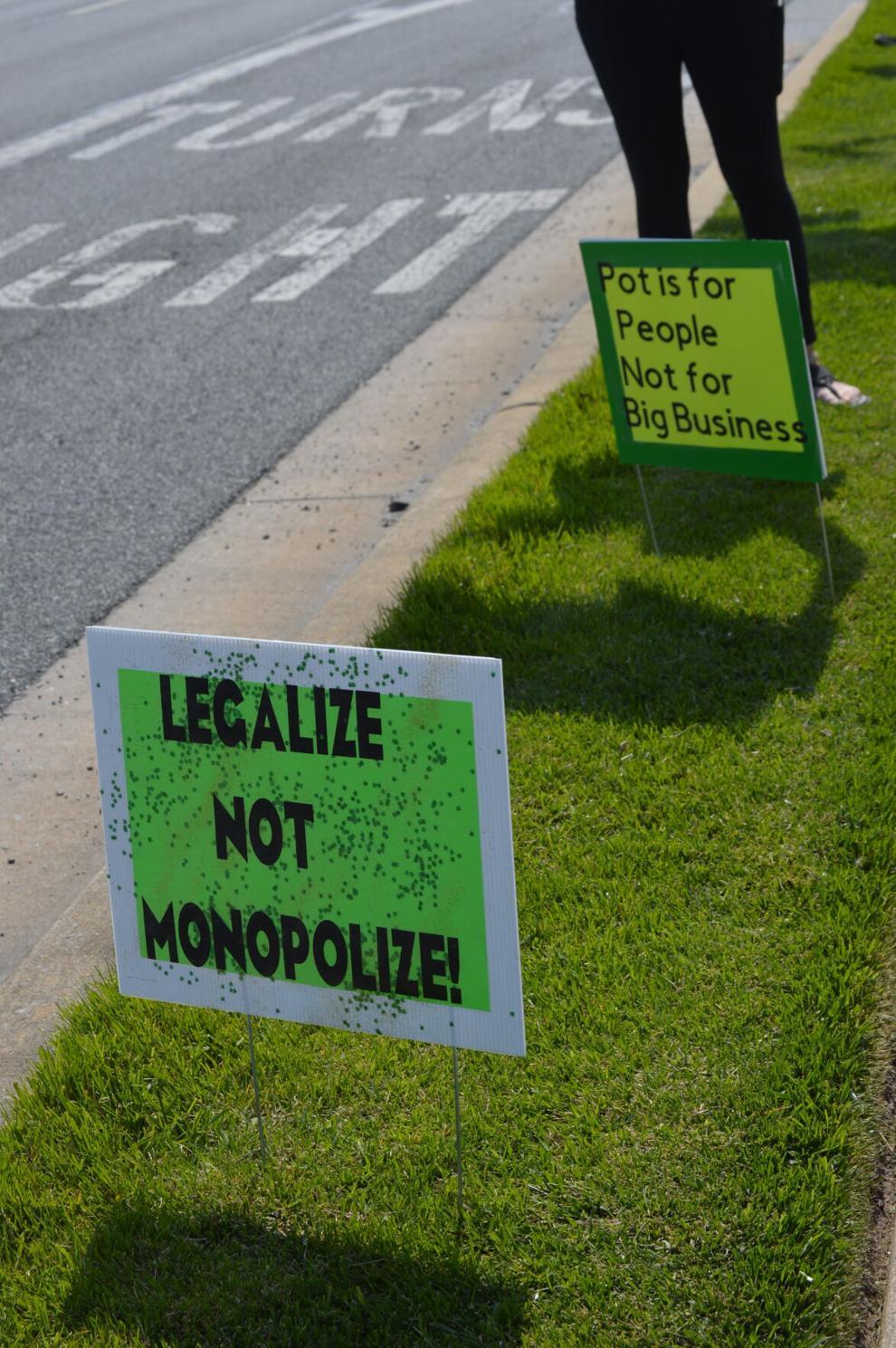 He and Ternahan also took issue with a recent advertisement by Columbia Care that they said promoted the national "cannabis holiday" of 4/20 with advertised specials. This, Jacob said, was "tonedeaf" and made the company sound as if it was celebrating that patients have conditions from which they seek relief from cannabis, not celebrating the plant itself.
The proposed Delaware legislation would legalize possession of up to 1 ounce of marijuana by adults 21 or older. In addition to setting up a commission to regulate the marijuana industry, the House of Representatives bill sets aside a number of producer licenses for "social equity" and "microbusiness" applicants, aiming to ensure smaller start-up producers aren't immediately squeezed out by existing suppliers operating under the medical-use law.
The bill defines social equity applicants as those who live in an area disproportionately affected by marijuana laws, have been convicted of a marijuana-related offense or who have a parent convicted of a violation of marijuana laws.
John Pratt, manager of the Columbia Care Rehoboth Beach dispensary, brought bottled water to the protestors toward the end of the event and spoke with Ternahan. He said he is happy to meet with her and her group to talk about their concerns.
Ngiste Abebe, vice president of public policy for Columbia Care, said in a statement after the April 24 rally that the company is in favor of recreational marijuana legalization but has some issues with the proposed legislation the way it currently reads.
"We support legislation and share the urgency to end prohibition in order to end disparate enforcement of cannabis laws," Abebe said. "It's also important to Delawareans to meet social equity, patient access and consumer safety priorities," she said, adding that Columbia Care "will continue to provide input to support those goals."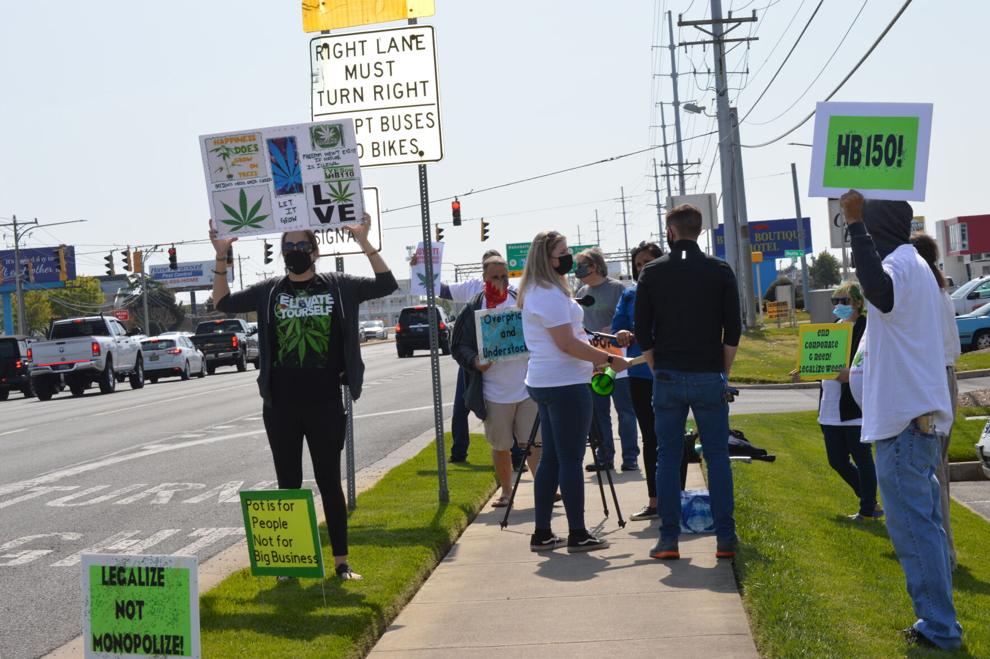 Some patients, who have advocated for more compassion centers to be licensed for years, said they are looking forward to the improved access and the lower prices that adult-use legalization will bring with the increase in market competition, and are outraged that the "compassion centers" spoke out against the legalization bill.
Ternahan said the patients, especially in Sussex County, have been suffering for years and have had to deal with a series of problems, including steep prices, lack of product availability, lines that were so long locals complained, and a serious lack of medical cannabis supply, which she said worsened during the pandemic.
"These dispensaries — especially Columbia Care, being a multi-million-dollar corporation — have failed to provide patients with adequate access to medicinal cannabis, and can't even keep up with the current demand," she said in a statement before the rally. She also said she believes Columbia Care testified against the proposed legislation for "nefarious" reasons not stated by Abebe, including "maintaining the market control they already possess."
"Prices are outrageous, with no options to buy in bulk, and there is very little selection available," at dispensaries such as Columbia Care, said Ternahan. "If the medical compassion centers are able to operate as adult-use dispensaries for months or years before adult-use shops are licensed, then the patients will have even less access to their life-saving medicine."
Medical marijuana patients are legally allowed to purchase 3 ounces at a time; however, online menus for the three operational providers in the state show that only small quantities of cannabis are available for purchase. Ternahan said at prices that are considerably higher than the price of medical cannabis in states such as Colorado, where recreational use is already legal. Nearby, Virginia and New Jersey have also recently legalized recreational use.
The advocacy group is encouraging patients who are fed up with the medical cannabis dispensaries to join them for another peaceful demonstration on Saturday, April 30, at the Smyrna location of Columbia Care, and to bring a sign voicing their displeasure with the medical cannabis market. The protest is set to take place between 4 and 6 p.m. at 200 S. Dupont Boulevard, on the sidewalk along Route 13.